Truth is, I've developed a bit of a phobia surrounding the hugely-popular stainless-steel wand.
Disturbingly enough, I've developed something of an irrational fear surrounding one of the Pure Wand's rigid metal ends, somehow managing to get hung up on, or immovably wedged beneath, my pubic bone – making it nearly impossible for me to dislodge the dildo on my own.
As remote of a scenario as that might be, it's grown into a legitimate fear for me.
And no, the improbability of such an unlikely event doesn't escape me—the laws of physics, themselves, are enough to avert such a nightmare scenario of mine from unfolding. Yet, my anxiety-riddled brain still sees fit to induce me to near panic at some point during nearly every single one of my attempts to try and relax and glean some pleasures from the Pure Wand's design.
Rationally speaking, I know that the Pure Wand's hefty 1.5 lb mass, coupled with gravity, is more than force enough to cause the Pure Wand to self-eject from my body and fall to the floor with a resounding clang.
But why then am I still plagued by horrifying images of me doing an awkward, stiff-legged shuffle into the nearest Urgent Care center, as the Pure Wand remains uncomfortably wedged, and stuck protruding from my body
This singularly horrifying thought is enough to put me off trying the Pure Wand, at least, for the foreseeable future.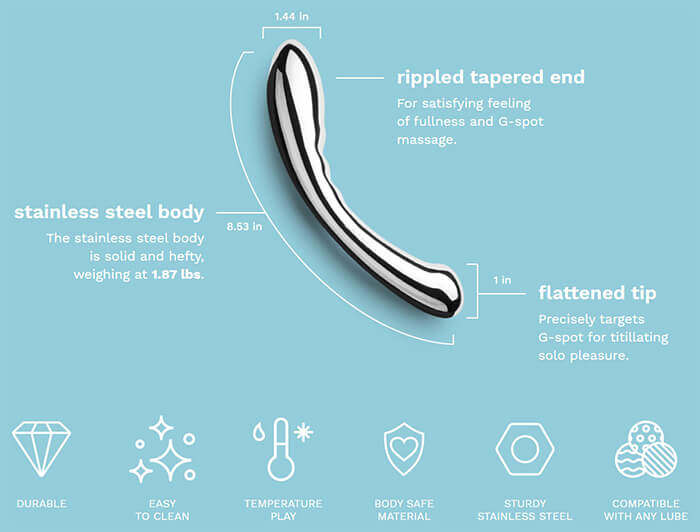 On the brighter side, I do have some good news to share with you. In fact, I'm thrilled to have discovered a far less intrusive alternative to the unnerving-shaped Njoy Pure Wand in the Le Wand Arch.
Unlike the Pure Wand, the Arch glides effortlessly in and out, without banging crudely against my pubic bone.
Specification of Le WAND Arch
Material: Stainless Steel.
Body Safe: Phthalate-free – Non-porous.
Care & Cleaning: To clean, simply use soap and water, pop them in the dishwasher or boil them for 3 to 4 minutes to fully disinfect. Compatible with all personal lubricants.
Warranty Information: 1 Year Manufacturer's Warranty.
Measurements: Total Length: 8.53″, Insertable Length: 4.25″, Width: 1.44″ at largest point.
Approximate Length – Insertable: 4.25 inches.
Approximate Width – Widest Point: 1.5 inches.
Had you noticed it before? I personally think the Arch's crescent-moon shape, glinting mirror-finish, stainless-steel composition, and substantial heft impart this wand an air of lavishness. Just in case you're wondering, the Arch weighs just shy of 2-pounds (1.8 lb), only a few ounces more than the Pure Wand.
Fair warning, hand fatigue is a virtual given when using the Arch, particularly in lengthier sessions.
In fact, I've come to regard the Arch's weight to be something of a double-edged sword. It can be both a blessing and a curse. It's a factor that undoubtedly requires your consideration before choosing to purchase this toy. Some things to consider are whether you'll be using it alone or with a partner(s) and whether you have any preexisting wrist or arm injuries or other problems that the use of this particular toy could exacerbate. It's certainly something to think about.
Thanks to the Arch's dual-ended design, it feels almost like you're receiving two toys for the price of one. And boy, do I love to stretch a dollar wherever I can. 
You'll notice one side of the Arch's double-ended shaft sports a familiar broad, flattened tip. This silhouette has become widely associated with affecting highly targeted G-Spot stimulation. It's meant to emulate the classic come-hither motion when actively being thrust in and out, in a short back in a forth motion. 
For me, this flattened tip rests snugly against my G-Spot and creates a pleasant and consistent amount of pressure upon it and the buried internal structures of the clitoris. It's enjoyable, but nothing to write home about.
The other end, my favorite of the two, has more of an elongated taper and incorporates a trio of expertly placed ridges. These ridges provide me with a fabulous source of external stimulation and are virtually the sole reason why I've fallen head over heels for the Le Wand Arch. 
While trying out this end, (the heavier of the two,) it didn't take long for me to discover that it's easier to leave gravity to do most of the work for me. Instead of trying to work against it. By simply allowing gravity to do its thing, the weight of the stainless steel naturally draws the wand inward and causes it to slip effortlessly inside me, and it feels heavenly thrust against the internal structures of my clit. While externally the triple row of ridges graze past and excite my external clit.
The Le Wand Arch is one of few toys that doesn't require me to apply some supplemental source of friction or vibration. Its well-thought-out and all-encompassing design make it one of those rare all-in-one toys.
Maybe one day, I'll find the courage to revisit and attempt to conquer the Njoy Pure Wand, but I think, for the time being, I'm quite content to have discovered the charms of the Le Wand Arch.