You recycle milk cartons, cardboard, paper and so many other types of materials and now you have the opportunity to recycle your sex toy. WowTech is pushing boundaries and the sex toy industry even further and making your pleasure more environmentally friendly.
The folks over at Womanizer have created an eco version of their absolutely epic toy, the Premium. I am happy to rave on about the Premium to anyone that will listen but in case you have missed all the other things I have mentioned let me jog your memory!
The Womanizer Premium Eco is a suction toy that delivers the most delicious sucky blowy style sensations on wherever you decided to place it. What makes the Premium Eco different is it has a function called 'Smart Silence'. What that essentially means is it senses your skin and powers on and once you move it away from touch, it powers off. It really is the sneaky wankers dream and has been a god's send in my house! The Eco has 12 intensity levels, which are easily controlled by the (+)/(-) buttons.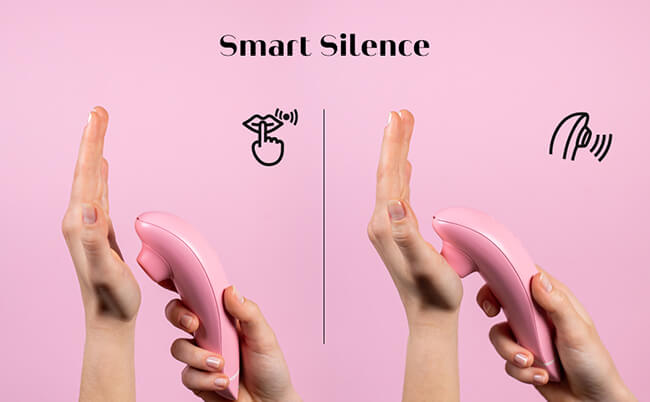 The big difference with this version – the Womanizer Premium Eco is – it can be recycled. The body is not made out of ABS plastic like previous models, no the body of this version is 100% eco-friendly and is made from biolene.
Biolene is a biopolymer Womanizer has used to replace almost all of the conventional plastic in its construction. Biolene is synthesized from renewable raw materials – mostly corn starch.
Holding it in my hand, you wouldn't actually know the difference in comparison to my original Premium. I will admit it does feel ever so slightly different than ABS plastic but that isn't surprising. It isn't plastic! Speaking of which, that also means the Eco version isn't waterproof either. It needs to be cleaned via toy cleaner or warm water and soap on a damp cloth and dried straight away. Womanizer also states not to expose it to high temperatures either.
This video is a walkthrough of some of PREMIUM eco's most standout innovations:
Design of Premium Eco
To tap into the packaging for a second – I am LOVING the craft-style cardboard box. I am actually going to keep mine – it is so pretty! All the other bits of cardboard come out and can be recycled. The cable is in brown cotton to match the rest of the aesthetic and is shorter than previous versions, making it even more environmentally friendly. The storage bag included is bigger and made from organic cotton, rather than the usual satin style and I am also loving that more. This version's packaging and accessories definitely speak more to me.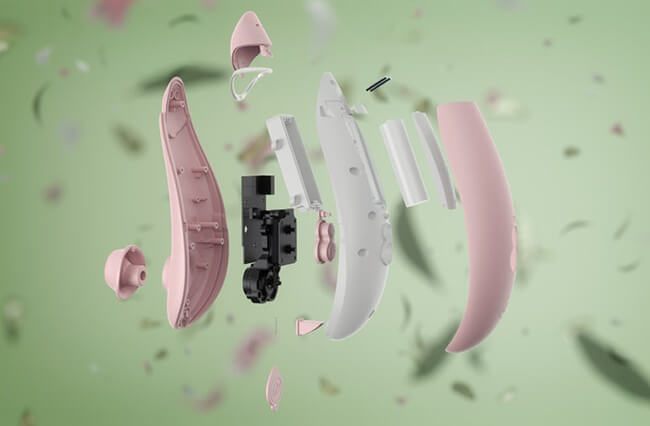 The Womanizer Premium Eco, as mentioned, can be broken down as you can see in the image to the top. The storage bag has a little tag on it, which essentially acts as a key to prise open the toy. There is a little opening at the base of the toy near the magnetic charging point where you pop in the tag, that resembles a guitar pick into. You twist it slightly and then run it down either side and the case comes apart. Here is where you replace your battery if you need to. The battery, however, is good for 300 recharge cycles before it needs to be replaced.
How to use a Womanizer Premium Eco?
When using a WOMANIZER product for the first time, make yourself comfortable – preferably in a place where you feel most relaxed. Spread your labia slightly with your fingers so that your clitoris is exposed.
Gently envelop your clitoris with the opening of the stimulation head.
Begin by exploring the different levels of intensity and gradually letting yourself fall deeper into your pleasure.
Video Tutorial
Want to make sure you're getting the most out of your Womanizer PREMIUM eco clitoral stimulator?
Check out Womanizer PREMIUM eco tutorial to find out how to enjoy the incredible features of the world's most sustainable intimate toy.
What's inside the box?
WOMANIZER PREMIUM eco with stimulator head attachment;
Additional smaller stimulator head attachment in size S;
Magnetic pin USB charging cable (without power supply);
Manual – shortened (additional languages via QR code);
Organic cotton pouch for storage.
Illustrated, multi-language instruction manual can be downloaded here.
Specification
Weight: 149g;
Head Material: Hypoallergenic medical silicone;
Color: Rose;
Materials: Biolene;
Dimensions: 54mm x 54mm x 165mm;
Warranty: 5-year warranty;
Warning: As the product is made from natural materials, do not expose it to temperatures higher than 45°C (113°F).
Why does Womanizer use Biolene of all things?
A study conducted by the Hannover University of Applied Sciences and Arts – Institute for Bioplastics and Biocomposites (IfBB), tipped the scales in favor of using Biolene for PREMIUM eco, the first sustainable sex toy. The study investigated various biobased plastics for substituting the outer parts of the PREMIUM eco made of ABS. It found that Biolene is the only bio-based material that has similar properties to ABS while being biodegradable.
To understand, a production of about 100,000 PREMIUM eco sex toys would save about 10 tons of plastic per year.
Is Biolene skin friendly or can it cause allergies?
There are no known allergies that can be associated with Biolene. No substances known to be food allergens are used in its manufacture. The material is therefore absolutely skin-friendly – and it feels very comfortable.
So what do I think of the Womanizer Premium Eco?
Given that this toy isn't made from plastic – I am seriously impressed at how hard the material is and how much it resembles plastic. I think it is fantastic that such a big name, WowTech, in the sex toy industry is pushing forward to be more environmentally friendly in their approach.
Like the other Womanizer toys I have, this version has supplied me with many orgasms, and for me, is the ultimate champion among sex toys!