As an owner of modern sex toys, I have a certain love for them, and when I came across the Bad Kitty pet play tail plug and ears set I loved the look of the main tail section so couldn't resist getting it for review.
The box has a nice design but its fairly basic showing you images of the tail and providing information on the size of the toy. In the box, you get the main plug and tail along with wearable cat ears, both in resealable bags. The plug is made from silicone with a PU coating and the tail is 70% polyacrylic, 30% polyester.
Size-wise the plug is 9.3 cm long, insertion depth 8.5 cm, and a diameter of Ø 4.1 cm with the tail being 37.7 cm long.
First impression
When taking the plug out of the packaging the first thing I noticed was how the tail felt, it was extremely soft and as someone who has owned cats in the past and has a friendly neighbour cat visits my back garden now and again, I can safely say it feels somewhat realistic and this got me excited even before I had worn the plug for the first time. Another good point for the tail is its size or rather its length which for me is perfect. Being 37.7 cm in length means it's long enough to get a good feel of having a tail but not being too long that gets in the way, or it being too short which then makes it feels unrealistic.
The main butt plug felt nice in the hand and if you've ever had a silicone toy with PU coating then you'll know how it feels but If not then it feels smooth and rigid. While I'm a somewhat more experienced user of butt toys I haven't had experience with many large toys as of yet but the plug here is a nice size. Its 4.1 cm diameter makes it slightly on the larger and more bulbous side making it one of, if not the largest butt plugs I've ever owned but then again it's not too large as I'll explain.

As always with butt fun and even more so since this was a bigger toy for me I lubed up a lot and proceeded to slowly slide the plugin having already warmed up with a slightly smaller plug first. It took gentle pushing but with enough lube, I was able to get it in me easily enough. I always like to use the term filling with butt toys to describe how they feel in me even with smaller toys that I maybe shouldn't, but with this one, when I say it's filling I mean it.
The size makes you feel it in in you and while I've had that sensation with slightly bigger toys in the past it is certainly a lot more noticeable here which I love. With the plug in me comfortably I soon had my attention drawn back to the tail. Its length was perfect for me and the soft nature was a pleasure to stroke over and over. Having it hang down as I knelt on my bed was fun, then as I got up to walk about having it hang down even more while it brushes against me and being so soft is exactly why I like having a tail in me.
My feelings
The filling feeling I mentioned felt awesome when I combined wearing the plug with masturbation as it always seems to add extra sensations and with the tail being a visual and tactile sensation also I was able to have some real fun. Throughout said fun, I never experienced any discomfort with the plug due to the smooth silicone/PU coating used.
After use, I found it somewhat easy enough to remove the toy, in my case going slow as it came out which only amplified the size of the toy when it did finally pop out. Having the tail to hold onto along with the base helped get a good grip to pull from. As with most tails I've used I did find lube would always get on the tail section at the base of the plug and this was the case here. To be clear it's not an issue with the toy but rather something I've never managed to avoid soo thought I'd mention it.
From the above, I found washing the plug with a cloth and wetting the affected tail section then giving it a good dry helped. Again on further uses, I loved the size of the plug and the softness of the tail. The bigger size of the plug compared to others I have continued to feel nice in me and added to masturbation pleasure as it was more filling. Having the soft tail not only was visually pleasing to me but being able to feel it brush against me as I walked around doing basic household tasks or stroke it as I lay on my bed just added to the visual pleasure of the tail and the physical pleasure from the plug
On one early evening, I put the plug in me after a shower, got dressed in casual clothes and had dinner while watching some TV, and spent a good hour or so with it in me which was reasonably comfortable and I only took it out because I didn't want to wear it for too long.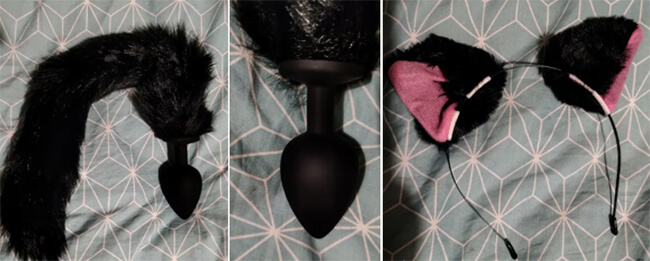 I found there was the same pleasure from the plug and tail as before with the baggy trouser I wore allowing the tail to easily touch my legs again feeling super soft. There was also the added pleasure knowing I had the plug/tail in me while the fellow household member had no idea. The tail also comes with cat eats that you can wear, these were on a metal headband and while comfortable to wear, for me I didn't use them that often as I am single so I never felt like they added anything. I can see the fun if you had a partner with you or a partner you could send some pics to with them on but I don't.
So while the ears might be great for some I ended up not wearing them as much as I thought I would,
Overall thoughts and feelings on the Bad Kitty pet play tail plug and ears set

If it wasn't clear from the main review I loved the Bad Kitty pet play plug and ears more than I was expecting. The size of the plug while not suitable for beginners was perfect for me as an experienced user of butt toys and I loved the feeling of it in me. The tail was also perfect for me in terms of it being the right size, the right feeling of a cat tail, and the fact it was super soft to touch. With the plug in me and the tail hanging down I was able to get the main 3 pleasures I want from a tail. The physical pleasure from the plug in me, the visual pleasure from seeing the tail hang from my butt, and the pleasure I get from touching the tail as I wear it.
If you're new toy butt fun then this might not be for you, but for the more experienced users out there this for me is a great-tailed butt plug and one I hopefully can use more often when I crave wearing a tail.