After seeing and more importantly reading about the explosive orgasms the Hot Octopuss Kurve was responsible for, I was super excited to finally get my mitts on one to see for myself.
I was already half-familiar with the Kurve before it arrived because we already own the Jett which sports the same treble bass function as the Kurve. Whoever thought of pairing them together and housing them in a shaft, tipped with squishy silicone needs to be taking a bow about now!
The Kurve is quite pretty to look at – a deep, rich aubergine shaft with a plastic handle that runs from silver to black in an ombre style and finished with gold-colored buttons that look really well against the aubergine shaft. I will admit that I spotted the joining between the shaft and the plastic straight away. It oozes a gunk harbourer so care will need to be taken there to prevent unwanted build-up. I personally would have continued the silicone ever so slightly over where the plastic and silicone meet.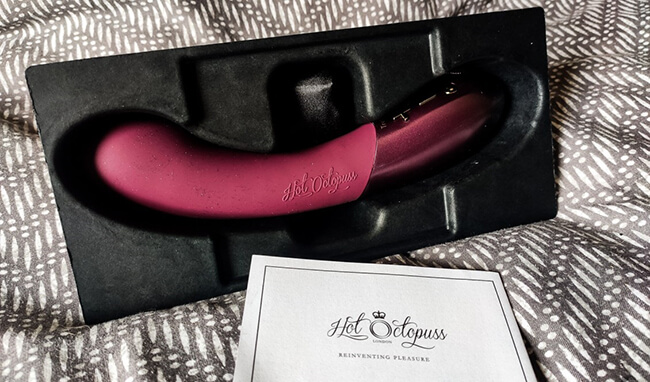 Feels like Treble and Bass
As you will know, I am allll about the squish so I was super intrigued to read about the head of the Kurve. I know, I know – I never read about people's opinions or even other reviews prior to receiving a toy in case it helps to encourage and form opinions but I did, in this case, I actually went onto the Hot Octopuss site to read about the Kurve because honestly the feedback spilling onto my social media was just too positive not to. So squish – yes! This is interesting because as much as I love squish, I need firmness and a more defined curve for gspotting.
The curve of the shaft and at the very tip where it ever so slightly juts out with a teeny bit of firmness is where it is at for me and I am hoping what I feel in my hands' transfers in use!
The left side controls the treble and the right the bass. I am glad they decided to emboss the letters into the plastic as I feel the writing will fade in time. Pressing + will power on the side you press and the power increases the more your press +. The – button decreases the power and eventually powers off the toy. Hold down the bottom circle button will also instantly power off the Kurve too. While the right bottom circle button is responsible for patterns.
The top of the shaft has the treble motor while the bottom has the bass. While it is noticeable which is which when powered on separately. I found when the treble and bass are powered on together, the top of the shaft is actually quite rumbly too. So much so you wouldn't realise which motor is where!
Specifications
Material: Silicone ABS
Colour: Plum
Weight: 189g
Weight (with packaging): 300g
Size: 194 x 82 x 42mm
Size (with packaging): 215 x 100 x 80mm
Function: 5 vibration modes, Unlimited customisation
Battery: Internal
Noise Level: <40dB
Running Time: 2-Hours
Waterproof: Yes
KURVE G-spot seeking and raring to please
I was worried in use, the Hot Octopuss Kurve wouldn't or more importantly couldn't deliver what I needed in relation to hitting my G-spot and honestly I really shouldn't have worried. Holy shit! That squishy bit feels super bulbous in use and the ridge hooks just how I need it! While as I have mentioned before internal vibrations aren't what I need to get me off, the treble and bass function honestly really brings something new to the table. Being able to fully customized exactly how I want those vibes to feel has been a game-changer for me!
The vibrations are bloody epic! Powerful, thuddy sensations ripple through me and the Kurve has been the supplier of many explosive orgasms!! I have been able to have G-spot orgasms with the Kurve and honestly the shape works so well, I could have them without vibrations too if I wanted. Really where it is at for me though is adding a clit vibe and having epic blended orgasms. The kind that gives you jelly legs is where it is at for me and I have no issue admitting when it comes to my orgasms, I am greedy – I want everything I can get. I can also achieve clitoral orgasms via the Kurve too. I know, I am such a trooper to check out all this. Never say I am not thorough Lash on the water-based lube regardless of how you use it because I did find the silicone draggy if playing on my clit without lube!
It is also worth noting that if buzzier vibes are your thing, then the Kurve can give you those too. Customized exactly how you want and need it to feel.
The Hot Octopuss Kurve is also waterproof so clean up isn't an issue and you can bring it into the bath too which I did the other night(as you can see below) and discovered it actually floats, which will show you this powerful beast is also light meaning it won't dead your arm when you are trying to jack off – another bonus!!