Are you having trouble finding your elusive G-spot or stimulate it the right way? No fret! I am (Kiera Baker) teach you how to hit the G-spot in this guide. I will also show you the best G-spot positions and other tips and tricks to make your sexual pleasure journey easier.
We can all agree that the G-spot's existence (or nonexistence) is one of the most exciting phenomena in sex-related topics. But if you are a woman who is yet to have any positive stories to tell, I am here to promise you it exists. It's not a myth, and if you follow this guide, you will know the best sex positions and practical tips you need for a fantastic G-spot orgasm.
Below is a list of positions and instructions about them that will help you reach the peak of sexual gratification, so when your partner asks, "did you cum" you won't have to lie!
My Top 6 Best G-Spot Positions of 2021
1. Doggy Style Position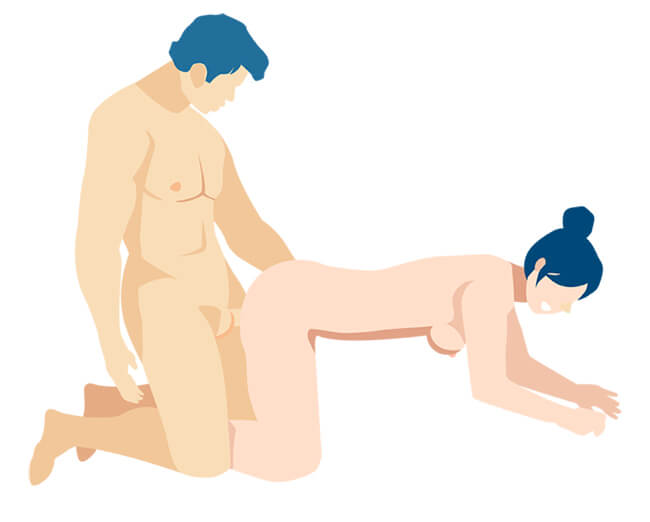 How To Do It
This sex position should be relatively well-known to most people, but we can make it better for G-spot stimulation with a slight twist.
First, the receiving partner goes down on all four.
The giving/penetrating partner kneels and enters from behind.
Now we are in the standard doggy position, but here comes the critical part. Try to elevate your butt. You can achieve this by resting on your elbow or put a pillow underneath your hips. Pushing your butt backward towards your partner may also help with the stimuli.
How It Works
Doggy remains one of the most effective sex positions as well as a fan favorite. Aside from the great view, it offers an opportunity to use hands and sex toys to stimulate and play with other parts of the body like the clitoris and breasts, increasing arousal and allowing better blood flow to your lady bits.
Doggy penetration is deep, making it a great G-spot position. Focus on the response of your partner to know how well you are doing. Doggy style is the best for G-spot stimulation because you lower your torso towards the bed while your butt is elevated.
Tips For First-Timers
Stimulate other parts: Use your hands to massage other erogenous zones on your partner. Stimulate her breasts, clitoris, butthole. When you stimulate these areas, blood flow increases to the vaginal parts, including, of course, her royal highness, the G-spot.
Lay down in your belly. Laying down may give better access to the vaginal front wall. Just follow the steps above, but lay down on your stomach instead of resting on your knees and forearms.
2. Missionary With Pillow Under Hip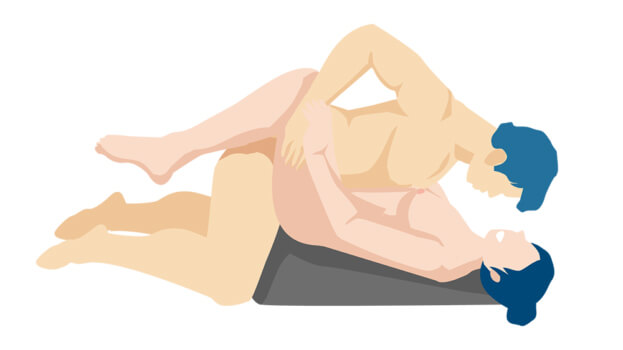 How To Do It
The vagina owner lays on her back with a pillow below her waist.
The giving partner kneels between her legs and penetrates deep into the vaginal opening.
The receiving partner can rest her legs on her chest or the partner's shoulders.
How It Works
The pillow under the hip technique gives room for deeper penetration. The elevation on the hip gives the vagina the perfect angle to let the penis go through to the cervix smoothly.
The sex position also provides a tighter feeling and adds extra inches to the penis/dildo, making it seem bigger than it already is. I don't see anyone complaining about a couple more inches, do you?
If you intend to ride solo (which I advise for first-timers), the missionary position is the best of the lot. You're comfortable on the pillow and have a good range to navigate your fingers.
Tips For First-Timers
Clitoral stimulation: Whether riding solo or having sex with a partner, you should also stimulate the clit with your fingers. The additional clitoral pleasure takes arousal to a whole new level.
3. Spooning Position

How To Do It
The receiving partner lays on her side.
The penetrating partner lays behind him/her and penetrates with the penis or dildo.
How It Works
Spooning gives deep and tight penetration. It's also a very intimate G-spot position, allowing your partner to use their hands to touch other hot spots of your body, like the nipples and clitoris. A big bonus!
Tips For First-Timers
Lift a leg up: The receiving partner can slightly lift her leg, giving you a better angle and easier penetration.
4. Cowgirl Leaning Back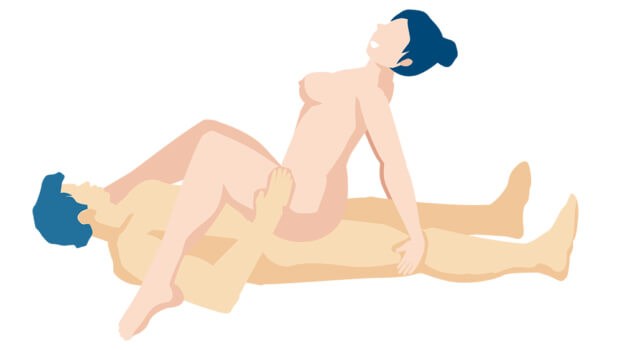 How To Do It
The giving partner lays down on a comfortable flat surface.
The receiving partner straddles the giving partner while he/she penetrates.
Finally, the receiving partner leans back and rests on your hands.
Try not just to move up and down. Do a back and forth motion to see if you better hit your G-spot. You can also tell your partner to tilt his pelvis upward to directly point to your frontal vaginal wall.
How It Works
This sex position creates an angle for more friction against your front vaginal wall. The leaned back makes a good angle for the penis/dildo to hit your G-spot.
Tips For First-Timers
Don't lean too much: Be careful not to bend too much. It can hurt your partner's penis!
5. Wheel Barrow
How To Do It
The giving partner stands straight on a solid flat surface.
The receiving partner wraps her legs around his waist and hangs on for the ride!
How It Works
The Wheel Barrow gives the penis an excellent grip inside the vagina while at the same time giving you an ideal angle for deep penetration.
Due to the difficulty level of this sex position, it's not likely you can perform it for very long. But for the shorter periods you can do it, expect one of the most intense G-spot massages you'll ever get!
Tips For First-Timers
Do it on a bed: Safety comes first with everything. To avoid having a bad fall, do it on a bed or a soft and secure surface.
Lean on a wall. Leaning on a wall takes the pressure off the penetrating partner's limbs and joints.
6. Carry Me Baby
How To Do It
Stand up straight, facing each other.
Lift your girl while she wraps her legs around your waist.
Penetrate her as she remains carried.
How It Works
The tightness gives you friction along the whole vaginal wall and canal, which, of course, includes the G-spot.
Tips For First-Timers
Make it tighter: Grab her ass firmly! In doing so, the sex becomes tighter. The tighter the sex, the more friction and pressure on the vaginal walls. Thank me later!
Lean on a wall. Leaning on a wall takes the pressure off the penetrating partner's limbs and joints.
What Is The G-Spot And Where Is It Located?
The G-spot, AKA the Grafenberg spot, is known for being the key to achieve mind-blowing G-spot orgasms. The name originates from German scientist Ernst Grafernberg who was the first to bring attention to it in the 1950s.
The G-spot is located 2-3 centimeters inside the upper part of the vagina towards your abdomen. It swells when aroused, making it easy to find with a finger.
Pro Tip: Have your finger make a "come-hither"/come here motion while you're trying to find it.
Final Thoughts
If G-spot stimulation is what you so crave, the above G spot sex positions are your best bets for a G-spot orgasm. Try them on different occasions and take note of which best rubs your G-spot.
Remember: we all have different bodies! Therefore, you may need to slightly modify them to suit your exact needs.
It's also crucial you stimulate other erogenous zones while doing these best G-spot sex positions. While doing so will amplify your experience, making it easier to reach that big orgasm.