Like the finer things in life, sex is one thing that is meant to be enjoyed. There are many ways to enjoy these things, and one of such ways is by exploring. The same goes for sex.
With many positions available for sex, it is necessary to try out new ones to spice up your sex life because repeating the same sex position every day would become boring. And boring sex does no good to any relationship.
Asides from just spicing up your sex life, certain styles are particularly helpful for things like G spot stimulation, deep penetration, longer-lasting sex, and even childbearing. We will explore 10 best sex positions to spice up your sex life and their benefits.
1. Doggy Style
How to Doggy
As the name implies, this position shares a strong semblance to that of dogs' sex. The giving partner kneel behind the receiving partner who bend forward on all four with an arched back and slightly elevated butt. You can also do doggy style at the edge of the bed.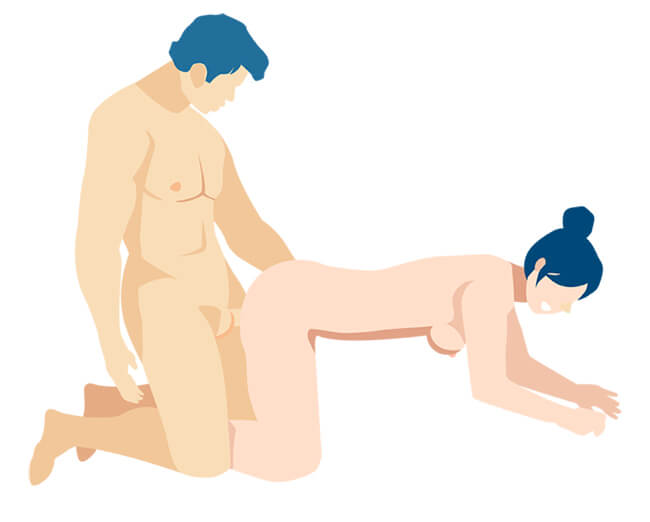 Benefits of Doggy
Deep penetration: The doggy position offers deeper penetration. The vagina will take the entire length of the penis, and thrusting is much easier. You would literally feel tingles all the way to your tummy.
G-spot Stimulation: Because of how deep your partner's genitals penetrates, doggy is one of the best positions for finding that sweet spot and stimulate it. It also allows you to easily reposition yourself until you locate that sweet spot.
A great view: The partner can bask in the glory of their partner's beautiful behind, seeing the full size as it's stretched out. A downside to this, though; because of the magnificent view coupled with the deeper penetration and thrusting motions, both parties might experience orgasm faster, especially the male party. But if you do not mind, be rest assured that it will be a beautiful orgasm, so you might as well enjoy that nut.
Pro Tips
Use your hands to stimulate other parts: Doggy gives you easy access to many erogenous zones like breasts, clitoris, and butt hole. Stimulating these parts provide maximum pleasure for your woman.
Do not just thrust in and out; occasionally allow the receiving partner to take control: Try grinding and moving side to side. Then let the receiving partner do some of the work by bouncing and grinding.
2. Missionary Style
How to do the Missionary
The receiving partner lays on her back with her knees up, legs spread open. The giving partner goes on their knees or lies between the partner's legs, inserts the penis and thrusts, or rides slowly or quickly.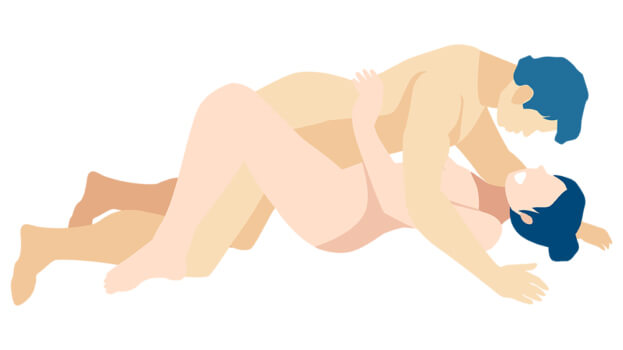 Benefits of Missionary Style
Simple: Missionary is easy to perform. Unlike other positions that require partners to stay in certain complicated and uncomfortable positions, missionary is straightforward. It's highly comfortable for both parties while still being hot and raunchy.
Helps conceive faster: Health experts say the missionary position gives the penis the right angle to aim at the vaginal canal, which may increase the chances of a pregnancy.
Increased intimacy: Missionary is one of the most intimate best sex positions. Personally, I would call it the "love style." This position is very sensual as you get the opportunity for a lot of eye contact while you ride. Hot right?
Pro Tips
Add variety: Despite being considered old-school, missionary is versatile and gives you many options. You can spread her legs in the air, curl them on your chest or have them rest on your shoulder while thrusting.
3. Spooning
How to Spoon
Both partners lay on their sides facing the same way, with the penetrating partner cuddling up from behind.

Benefits of Spooning
Clitoral stimulation: Any position where penetration is from behind makes clitoral stimulation easy. Both parties have easy access to the clitoris, meaning you can touch yourself or your partner can touch you. Penetration while touching the clitoris increases the chances of having an orgasm.
Intimacy: The spooning position is very intimate. There is something about how you both are cuddled up. This position also makes it easy to kiss the neck, gently bite the ear, and whisper sweet words into your partner's ear. Talk about ultimate satisfaction!
Comfortable: If you're not looking forward to lifting your partner's body weight, spooning is the best bet for you. You can easily do it before going to bed or as you wake in the morning without too much fuss. It's also a good position for pregnant sex.
Pro Tips
Switch control: Unlike some positions where only one person does all the action, spooning provides the opportunity to switch as the receiver can grind on the penetrating partner.
4. Lying Doggy
How to do the Lying Doggy
In contrast to the usual doggy where both partners get on all fours, the receiving partner lie flat on their tummy with their bum slightly elevated. The giving partner either kneels or lays down while penetrating through the elevated space.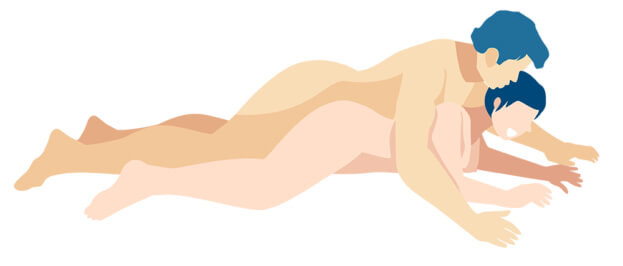 Benefits of the Lying Doggy
G-spot stimulation for quicker orgasm: Being in this position is not only hot and sexy; it also allows the penis to hit the G-spot, increasing the chances of squirting and multiple orgasms.
It makes your partner's penis or strap-on seem larger: A snug is created in this position, allowing the penetrating object to appear bigger than it is. This phenomenon can help a partner with a small penis feel more confident.
Pro Tips
Throw in a pillow underneath her belly: Do this and get a better arc on the back, allowing you to reach the G-spot.
5. Cowgirl
How to do the Cowgirl
Simply put, it's like a lap dance with the front of your bodies facing each other. The woman stays on top of her partner with her legs spread across as he/she either sits or lays down.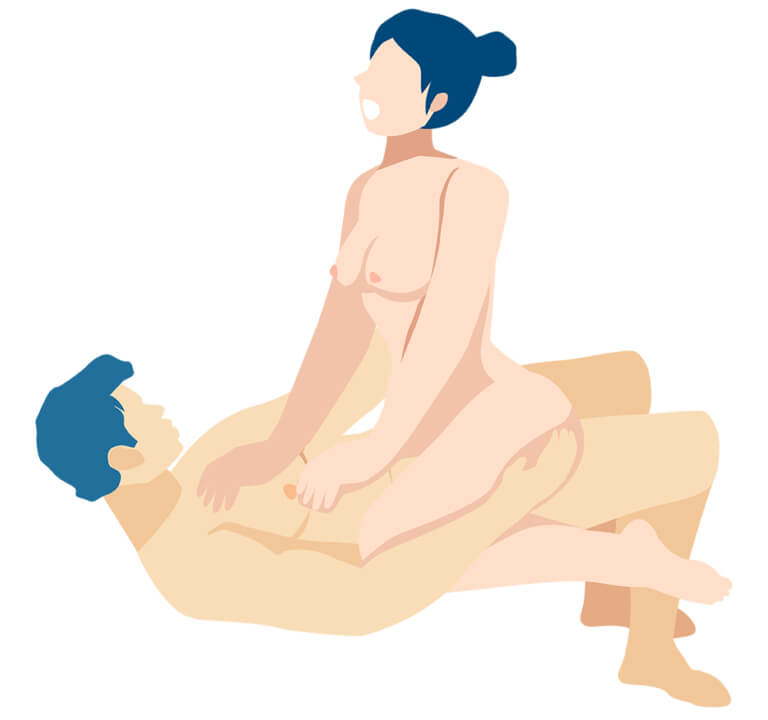 Benefits of cowgirl
Control the pace: The cowgirl allows the girl to dictate the tempo of the whole experience. Whether she likes it fast or slow or a little bit of side to side, she is in total control.
Dictate how much dick you want to take in: If your man packs a heavy D and you fear taking it all in, cowgirl allows you to control how much of it you want going in. If it's not long enough and you want it deeper, you can put a pillow underneath to add a few inches.
Variety: The cowgirl is yet another great sex position with a variety of ways you can perform it. You can have your partner sit; you can let their legs stay up as they lay to elevate you, or you can sit with your foot on the ground or bed.
Pro Tips
Try tying your partner up: BDSM might not be everyone's forte, but if you are looking to try it out, this is one of the best styles to make the sexual experience as erotic as it can be. Tie your partner's hands, tell him he has been a bad boy as you slowly grind, and watch him struggle to contain his pleasure!
6. Reverse Cowgirl
How to do the Reverse Cowgirl
Like the lap dance but with the ass grinding and bouncing on the D while your partner sits or lays down.
Benefits of Reverse Cowgirl
A great view: Some of the best POV porn videos have this style for a reason – the view is simply immaculate. It's also a perfect sex position if you want your ass worshipped and adored by your partner.
Good for a workout: If you want sex as a form of exercise, this position is an excellent avenue for burning some calories.
It gives room for some good spanking too!
Pro Tips
Put the finger in the butthole: Get kinky and place the finger inside her booty hole! And use sex toys!
7. Standing Against a Wall
How to do it Standing Against a Wall
The receiving partner puts her hand on the wall, lean forward, and slightly elevates one leg (or both). The giving partner places their hands on the butt, waist, boobs, or other body parts.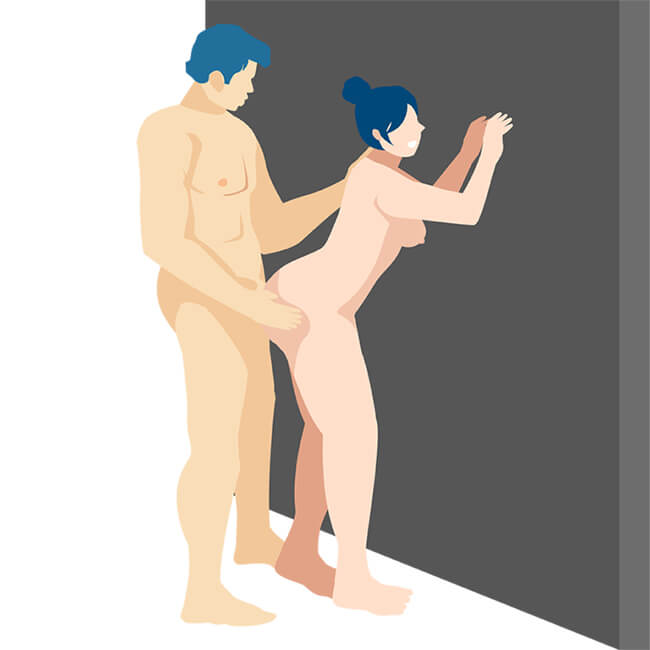 Benefits of doing it while Standing
Allow you to mix foreplay with sex: One of the fastest ways to reach orgasm is to use your hands while penetrating. Rub the clit, grab her breasts, rub her nipples, finger her ass, or spank her ass. Doing all these make her peak faster. You can also stick your finger(s) in her mouth. Talk about bringing the demon out of her!
Pro Tips
Pull your partner closer: Make your bodies feel as connected as possible by drawing your partner close to you and making the penetration as deep as can be.
Grab her hair, close her mouth, let her look back at it: Being one of the raunchiest best sex positions out there, going the extra mile to make it hotter can be very pleasing.
8. The Wheel Barrow
How to do the Wheelbarrow
This position gets a bit technical. Have your lady wrap her legs around your waist, possibly while you kneel on the bed or while standing, whichever one rocks your boat. It should look like you are pushing a wheelbarrow.
Benefits of the Wheel Barrow
Deep penetration: This position allows for very deep penetration, making you feel butterflies in your tummy.
Good for weight loss: For partners who want to use sex to lose calories, this position will help them lose weight for sure!
Pro Tips
Take it slow: You should do this position slowly and gently to enjoy maximum satisfaction and safety.
9. The Caboose
How to do the Caboose
While your partner is seated on the bed, sit in front and lean in, then look away, keep your eyes forward. This position looks like you are being lapped by your partner.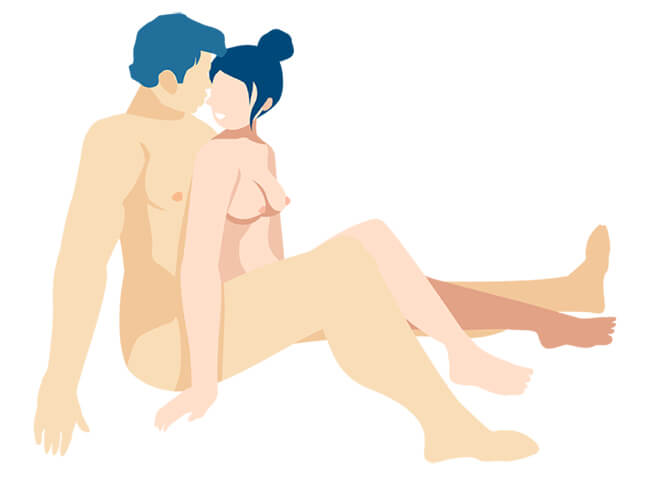 Benefits of the Caboose
The element of surprise: You are sitting with your back towards your partner, making you unaware of what trick they will pull next. That can be extremely hot!
A whole new Adventure: This position is not well-known, so you're likely reading about it for the first time. Imagine acting it out with a partner now!
Pro Tips
Use a vibrator: The caboose presents you with the opportunity to access the clitoris and the rest of the vagina gang. So, while penetrating from behind, use a vibrator to blow her mind (quite frankly).
10. Carry Me, Baby
How to do the Carry Me, Baby
Hug your woman from the front, have her jump and wrap her legs around you while you insert your penis or dildo to penetrate.
Benefits of the Carry Me, Baby
A faster way to conceive: Because of the angle it presents, it may be a higher chance you get pregnant with this sexual position.
Body exercise: This position gives your partner a good workout, helping him grow abs and lose calories. Yummy!
Final Thoughts
Add all these new positions to your sex bucket list and take them on one by one to be assured your love life goes from beginner to expert.
Have fun with our best sex positions!