Playing with sex toys is fun but it should also be safe. Knowing about the best sex toy cleaners will help you to decide which cleaners will get the job done. Different toys will call for different cleaners, too.
With so many toy cleaners on the market, this sex toy cleaner buyer's guide will help you to make sense of the process.
Our Top 5 Sex Toy Cleaners of 2023
1. Toylife's All-Purpose Foaming Toy Cleaner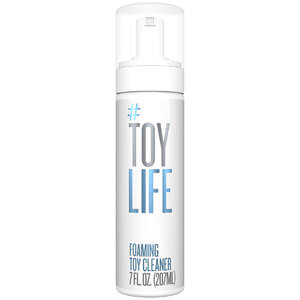 Toylife makes a Foaming Toy Cleaner that simplifies the task of cleaning all of your sex toys. The foam is easy to apply so that you don't use too much product at once.
The product is hypoallergenic so that you can use it on your sex toys without fear of the cleaner being irritating. The gentle ingredients will take care of sanitizing the surfaces so you don't have to worry about germs carrying over to your next play session.
How to Use the Toylife's Toy Cleaner
Toylife's sex toy cleaner works simply. You can dispense a pump of foam directly onto the toy. Rub the toy around the foam. Then, rinse the toy under tepid water and hand dry it with a towel.
Pros & Cons
Pros:
Easy to use;
Gentle and non-irritating solution;
Free of parabens, sulfates, and alcohol.
Cons:
The fragrance can be overpowering.
Final Impression
The all-purpose foaming toy cleaner dispenses nicely. It makes it quick and easy to clean toys with the confidence that they are well and truly cleaned and sanitized. The "Sweet Citrus Magnolia" smell isn't the best when it comes to how it leaves toys that you'll play with intimately, but the smell does dissipate after a few hours.
2. Shibari's Sex Toy Cleaner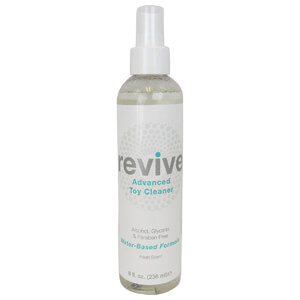 The Shibari Toy Cleaner is a water-based formula that is designed to clean adult toys. It is free of alcohol, glycerin, and parabens so that it won't irritate and it won't leave a residue behind on any of your toys.
The spray is formulated to be gentle and effective on all of the toys you might have. It can be used effectively on latex, rubber, and silicone-friendly toys. It has been reformulated recently so that it doesn't foam as much as the previous formula.
How to Use the Shibari's Toy Cleaner
The cleaning process with the Shibari Revive cleaner is simple. You can spray your toy down with the spray. Then, rinse with warm water. You can let it air dry or use a clean towel.
Pros & Cons
Pros:
Targeted spray system;
Glycerin, paraben, and alcohol-free;
Works on a variety of materials.
Cons:
Citric acid smell can be off-putting.
Final Impression
The Revive Toy Cleaner by Shibari is easy enough to use. Since it is free of alcohol and glycerin, you won't get a strong cleaning smell when you're done. Since it is free of parabens, there also won't be any residue. The product does contain citric acid, though, which means there may be an unpleasant smell left behind.
3. Dr. Bronner's Pure-Castile Liquid Soap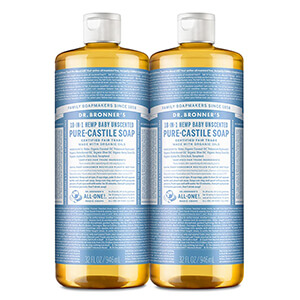 Dr. Bronner's Pure-Castile Liquid Soap is designed to work as a traditional liquid soap. It is versatile so that it can be used to clean virtually anything. It can be used as a body wash, shampoo, laundry detergent, as well as a sex toy cleaner.
90% of the ingredients are organic and 70% are certified fair trade. The product is vegan and all-natural so that it is an eco-friendly option for cleaning your adult toys.
How to Use the Dr. Bronner's Toy Cleaner
The soap is highly concentrated, so you will need to dilute it with a significant amount of water. A small drop of soap mixed in with warm water is all you will need. You can use a sponge for electronic toys or you can submerge your other toys. Rinse with water and towel dry.
Pros & Cons
Pros:
The cleaner can be used on everything;
Concentrated so that one bottle lasts a long time;
Unscented so you don't have to worry about any smells.
Cons:
Not specifically formulated for sex toys.
Final Impression
There's a lot of versatility in Dr. Bronner's liquid soap so that it can be used to clean the body as well as sex toys. While it's all-natural and eco-friendly, the fact that it's not dedicated specifically to cleaning toys that can come into contact with genitals leaves something to be desired.
4. Trinity Vibes Anti-Bacterial Toy Cleaner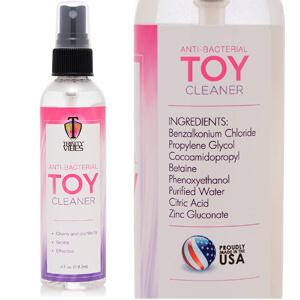 The Trinity Vibes Anti-Bacterial Toy Cleaner is a simple spray that can be used to clean toys. It is safe for not only adult toys but all plastic items – including other toys inside of your house. The gentle cleaner will both clean and disinfect so that it is safe around your genitals, your mouth, and everywhere else.
The water-based cleaner is safe for all of your silicone-based toys. This includes such things as a fleshlight as well as dildos.
How to Use the Trinity Vibes Toy Cleaner
The toy cleaner is a spray bottle, so you can spray it directly onto the toys. Rub it in and rinse it under warm water. Then, you can towel dry the toy or let it air dry before placing it into storage (or using it again).
Pros & Cons
Pros:
The spray bottle makes it easy to use;
The size is small and discree;
The formula makes it safe to use on various toys.
Cons:
Some reviews say it can upset the pH balance inside of the vagina.
Final Impression
The spray gets the job done on any and all sex toys without breaking down any of the materials. The packaging makes it seem as though it's dedicated to adult toys, so it's best to keep it hidden from prying eyes.
5. Satisfyer Women's Foaming Sex Toy Wash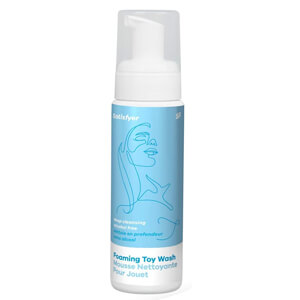 The Satisfyer Women's Foaming Toy Wash offers a deep clean that is silicone-friendly and hygienic. This product is unique in that it is designed specifically for women's toys so that it is gentle enough not to disturb the natural bacterial found inside of the vagina. The foam is gentle enough not to break down silicone but strong enough to kill bacteria and germs.
The product can be used on both men's and women's toys. It has won over 200 international design awards because of the way in which the foam is dispensed. Additionally, the formula is hygienic so that it truly cleans the toys so that they're ready for the next round, whenever that might be.
How to Use the Satisfyer Toy Cleaner
The Satisfyer toy wash is easy to use. You can squirt a little foam into your hand and use it to create a lather on your toy. Rinse under warm water and allow it to air dry.
Pros & Cons
Pros:
Simple foam formula;
Alcohol-free;
Large container lasts a while.
Cons:
The bottle leaks if it is stored on its side.
Final Impression
The foam is gentle and provides a thorough cleaning of the toys. There's no residue left behind on the toys and clean-up only takes a few minutes. Due to the overall design of the bottle, it can leak. The best thing to do is make sure that it can be stored upright.
Sex Toy Cleaners – Buyer's Guide
Regardless of where you're using the sex toys, they're getting germs on them. Sex toys don't clean themselves. Therefore, it's critical that you clean the toys so that they are ready for the next time you want to use them.
A sex toy cleaner should be gentle enough to avoid damaging the toy while strong enough to kill all of the germs. This way, the next time you're ready to play with the toy alone or with a partner, you can do so with confidence knowing that it is germ-free.
Frequently Asked Questions (FAQs)
Can regular soap and water be used to clean sex toys?
While most sex toys can be cleaned with antibacterial soap and warm water, the average sex toy cleaner is a bit gentler and designed specifically for motorized and non-motorized tools. Additionally, soaps will often use some kind of fragrances that can be irritating in sensitive areas.
Will the dishwasher work to clean toys?
No. Most sex toys are not dishwasher safe. Dish soap can also leave a residue, causing irritation on the genitals.
Are there specific things to look for in a sex toy cleaner?
Be sure that the cleaner is water-based and is free of both parabens and alcohol. It will provide a deep clean without leaving any irritants behind.
Do batteries need to come out of a sex toy?
If you're cleaning a toy that takes batteries, remove them before you begin to clean. Never submerge any electronics into the water.
How should porous toys be cleaned?
Because some toys may be porous, it means that bodily fluids can be penetrating into the surface. Most cleaners will be able to kill the germs. The best way to ensure that there are no germs being transferred, however, is to use a condom with toys that are porous.
How should sex toys be stored?
Once you've cleaned your sex toys, be sure to store them in a drawstring or zippered bag (that is cleaned regularly) so that they don't pick up bacterial while they're in storage.
Do toys have to be dried before going into storage!
In most instances, yes. While plastic and silicone can dry inside of a bag, it's best to dry everything off entirely. Especially if the toy is made of metal, you don't want the water leading to rust over time.
Final Thoughts
A modern sex toy cleaner is a must-have as soon as you begin buying sex toys. Whether they are silicone, glass, metal, or any other kind of material, they have the potential to breed germs. Cleaning the sex toys after every use will ensure that you don't spread the germs and cause irritation the next time you're ready to play.
Many toy cleaners offer a gentle, non-abrasive way to clean your vibrators, dildos, and other toys. Read the reviews and choose a product that is easy-to-use and offers the finishing fragrance that you love.