I've reviewed a lot of sex toys in the past years. Often, when a toy is trying to do multiple things at the same time, it fails in all of them. There are notable exceptions. The Lelo Enigma is an exception. The Engima is described as a "dual-action sonic massager," and it provides touchless clitoral stimulation as well as internal g-spot stimulation. In this Lelo Enigma review, I'll share my various thoughts about this product, including the bottom line that the Enigma is a gorgeous high-end product that delivers stellar orgasms.
Out of the Box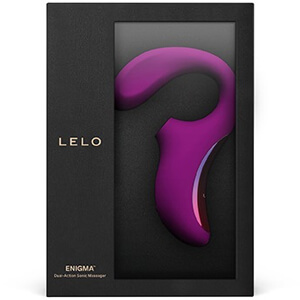 The Lelo Enigma comes in a tall black box with a clear front. The Enigma comes with a charging cable, storage bag, manual, lube, and a warranty card.
The Lelo Enigma have only three button: a center button that controls patterns, and a + and – to decrease and increase the intensity of the stimulation. (Turn it on/off with the center button.) The internal g-spot arm has some good flexibility. The Enigma has a non-magnetic charging port. You have to penetrate this one.
The entire device looks really space-age, and it feels nice in hand. It has sleek curves and a soft-touch silicone exterior. It looks more like a piece of art than a sex toy — not that I mind if my sex toys look like sex toys, but beauty is always appealing.
How to Use

Lelo Enigma?
Lelo Enigma is a luxurious dual action sonic massager designed to titillate both the entire clitoris – its visible and invisible parts – and G-spot. With an option for both kinds of stimulation, ENIGMA offers you access to both kinds of climax. It's made for the explorers ready to dive into the pleasures that are yet to be discovered.
STEP 1

Apply LELO Personal Moisturizer on the clitoral and vaginal part of the toy for enhanced pleasure.

STEP 2

Adjust the vaginal end in place, not too deep, then adjust the clitoral end before you turn on the power.

STEP 3

Press + button to turn on; start at the lowest speed and increase vibration and mode as you wish.
Feature Overview – Video
The Specifications of Lelo Enigma
Material: Body-safe silicone, ABS;
Color: Deep Rose, Black;
Interface: 3-button interface;
Switch off: Automatic after 60 minutes;
Frequency: 60 Hz / 100 Hz;
Battery: Li-lon 850mAh 3.7V;
User time: Up to 2h;
Standby time: Up to 90 days;
Size: 100 x 50 x 185 mm / 3.9 x 1.9 x 7.3 in;
Insertable length: 140 mm / 5.5 in;
Weight (only product): 196 g / 0.43 lb.
My Experience
The Lelo Enigma is designed to provide internal vibration at the same time as exterior clitoral stimulation. The way you use this toy is to insert the g-spot arm, line up the external nozzle with your clitoris, and then turn the whole thing on and adjust as needed.
The internal arm of the toy must be situated first. That part of the toy isn't fully round; the shaft is "flat" on each side, but I didn't notice any difference in the sensation of penetration as a result. The amount of penetration and the angle of penetration will differ per person based on where your clitoris is in relation to your vagina. It was a bit of fumbling for me to get everything lined up exactly right. The clitoral stimulator nozzle is fixed at a particular angle, which required me to move the g-spot arm to make the toy as a whole match my body. It wasn't difficult as much as it was just a bit fiddly.
The clit stimulator is incredibly powerful, even on the gentlest setting! I was quite shocked the first time I used it and had to move it away once or twice, but once I'd relaxed into it and forced myself to leave it in place it felt amazing. Be warned, this will literally rip the orgasm out of you to the point where you feel almost violated afterwards!! And that's on one of the lower settings, I'm not brave enough to try the stronger ones! So if you're a power queen the you're in luck!
Final Thoughts
The Lelo Enigma is beautifully designed and super effective. It's a powerhouse sex toy. It's knocked my proverbial socks off each time I've used it, and I keep coming back for more. A bit finicky to situate at first, its dual stimulation and focused attention internally and externally lead to glorious orgasms. I'm impressed and I highly recommend it.