It can be challenging to find a decent vibrator for under a hundred dollars. A lot of budget vibrators are either made of questionable materials, or are seriously lacking in the power department. But the Pillow Talk Sassy by BMS Factories has all the trappings of a luxury vibrator, with a budget price tag.
About Pillow Talk Sassy
The Pillow Talk Sassy is a rechargeable G-Spot vibrator that's made of velvety soft silicone. The design is simple, a straight handle with a swooping curve and a large, rounded head. Although flashy shapes and strong textures can be really fun to play with, sometimes the simplest of designs are the most effective. Sassy's curved neck makes G-Spot stimulation effortless. It's perfectly shaped to allow you to locate and titillate your G-spot with ease. If you're new to G-Spot stimulation, the Sassy would be an excellent toy to aid you on your explorations.
My Experience
The vibrating head is wide and moderately firm, with a small amount of cushioning on the front end. Typically for G-Spot massage, you want a toy that's quite firm to allow you to apply enough pressure, but I find that some G-Spot toys are too firm for comfort. Personally, it takes me a while to reach orgasm with G-Spot massage, so I want a toy that's firm enough to do the job, but soft enough to be able to use for an extended period. The Sassy provides just the right amount of cushioning. The neck has a little flexibility to it, so that you can massage your G-Spot without just ramming at it. Sassy is perfectly shaped and contoured for G-Spot play.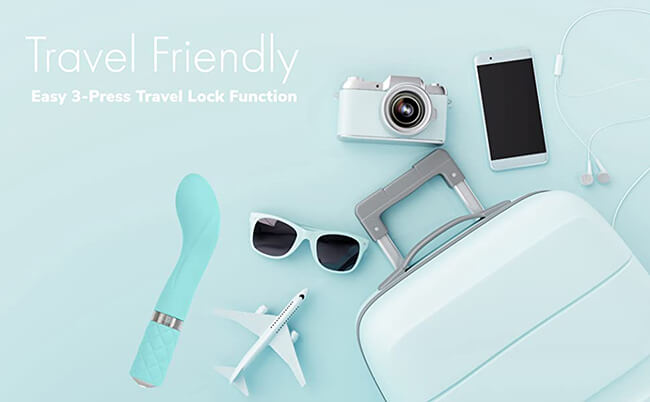 Sassy's handle has a cross-hatch texture that reminds me of luxe, satin pillows. I love when silicone toys have a bit of texture on the handle because it makes them much easier to hold and manipulate, particularly if you have lube on your fingers. The one physical feature of the Sassy that I'm not so thrilled with is the band of silver ABS plastic that wraps around the handle. It feels like an unnecessary add-on, and it makes cleaning Sassy a little more tricky. There's a lip between the join of the plastic and the silicone that can act as a gutter for lube and fluids, and I don't love having to clean this spot on the toy. I would have preferred if the entire handle was silicone, without the plastic adornment.
Specifications
Size: 198 mm (7.8 in) total length, 128 mm (5 in) insertable length, 38 mm (1.5 in) width at widest point;
Materials: Silicone, Swarovski Crystal;
Style: Soft, flexible, Silky finish;
Functions: Single push button, multi-speed;
Power Source: USB Rechargeable;
Manufacturer: BMS Factory;
Points of Interest: Water-Resistant, Travel Lock, Quick Off Button, Powered by Power Bullet, Real Swarovski Crystal;
Manufacturer Warranty: One Year.
Features
One of my favourite features of the Sassy is the controls. The vibrations are controlled by a single Swarovski crystal-encrusted button. Normally, I don't enjoy single-button vibes because you typically have to push once to turn on, then click the button to increase the speed. You usually have to cycle through every setting to turn them off, which is particularly annoying if you get interrupted and need to switch off in a hurry.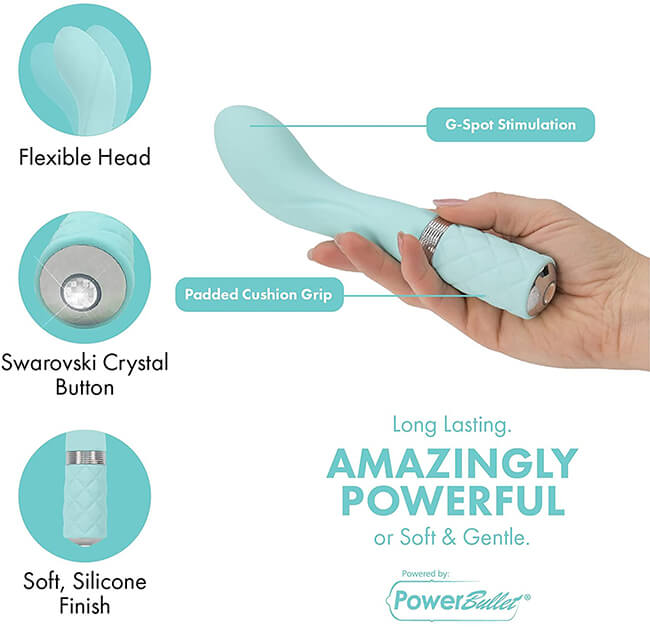 The Sassy, however is different. You click the button once to turn it on, and then hold the button to increase the speed. The longer you hold the button, the stronger the vibration gets. The vibrations start at a pretty respectable rumble, and increase to the point where you think the toy is going to rocket out of your fingers. To turn the toy off, you just give the button a quick click. I love how fast you can switch this toy off, and the way you can gradually increase the speed until you find the perfect vibration for you. The Sassy also has no patterns, which I like because I rarely use the patterns, and don't know many people who do.
Remember how I said that Sassy feels like a luxury vibrator? To me, the things that make a vibrator feel luxurious are the little extra touches, the things that aren't essential but which are really nice to have. And Sassy ticks all my luxury vibe boxes. Rechargeable? Tick! Travel lock? Tick! Comes with it's own satin carry bag? Tick! For a budget vibrator, Sassy gives you all the trappings of something much more expensive. It does everything I want it to, and still manages to find a few little details to make it feel like a special treat rather than a utilitarian vibe.
Final Thoughts
The Sassy comes in two pastel shades: teal and pink and has a one-year warranty. I would recommend the Pillow Talk Sassy for anyone on a budget, anyone who loves G-Spot stimulation and people who are just beginning to explore G-Spot massage. This toy punches well above it's price tag, and is like drinking champagne on a beer budget.