Ever tried a vibrator specifically designed for the G-spot? This pleasure point is found around 5-8cm up the front wall of the vagina and once stimulated can increase the intensity of a woman's orgasm.
There are a myriad of vibrators to help you along, with added extras such as ribbed and curved designs, to be used in the bedroom or even in the shower.
What is a G-spot vibrator?
There are a variety of G-spot-specific vibrators available, coming in a selection of different designs — but all aim to provide a better, more intense orgasm.
If you're a beginner, go for a classic vaginal vibrator with a curved tip for easier G-spot stimulation. Ribbed designs allow for the raised ridges to pass over the G-spot, offering further stimulation.
If you're feeling braver, try a fully insertable "egg", which might sound intimidating but just means the tip of the vibrator is rounded and sits right on the G-spot.
What is the best vibrator?
G-spot stimulators aside, there's a wide range of sex toys to explore. Our testers tried 95 vibrators across all the main categories, and we've rounded up the best ones for couples too. The main categories are:
Bullet vibrators: designed for external clitoral contact, these make a great choice for first-timers because they're compact, silent and small.
Clitoral vibrators: these tend to be larger and more powerful than bullet vibrators with a longer-lasting battery life, and are shaped for direct clitoral stimulation.
Vaginal vibrators: designed for internal use, these are longer and often have a tapered tip for ease of use. They can also offer clitoral stimulation but most are not specifically designed for this purpose.
Combination vibrators: also sometimes known as rabbit vibrators, these have two key parts to provide a "blended" orgasm – a main shaft for internal use and a clitoral stimulator, often in the shape of "rabbit" ears.
Things to consider before you buy
Check you're happy with the dimensions and the way the vibrator looks, some will end up being bigger or smaller than you thought. Also consider the range of settings and speeds available, and how loud it is – look for "whisper quiet" vibrators if you're worried about being heard.
Some vibrators will be battery-powered; these are cheapest and most popular, while rechargeable sex toys avoid the additional cost of replacing batteries. Lastly, consider the material. Plastic is firm to the touch and a popular choice, but opt for silicone if you're more concerned about comfort. Skin-safe rubber is soft and more flexible.
Avoid anything containing phthalates (chemicals used to increase flexibility) as these have links to health risks. Look for the "phthalate-free" certification on the box. None of the vibrators in any of our round-ups contain phthalates.
First Time G-Spot Tulip Intimate Vibe
This babe may not look like much, but egg-on-a-stick toys (as they're colloquially called) are seriously underrated. "This toy is one of the most intuitive on the adult market, which makes it a great pick for beginners," says Jill McDevitt, Ph.D., sexologist. Plus, at ~12 bucks, it'is like, 1/15 the price some of the other vibes on the list. So, if you don't *know* you like G-spot play, it's a great stepping stone (err, toy). "The bulbous, curved head is large, firm, and offers pinpointed g-spot action," she says.
Oh, and because the toy is 8 inches long, it can also be used to reach your anterior fornix erogenous zone (aka your A-spot), which is a patch of tissue a few inches deeper than the G-spot that some folks find orgasmic. (BTW: Did you know the A-Spot is one of the many reasons anal can feel good?).
Satisfyer Charming Smile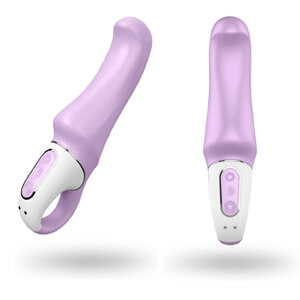 Not all dildos and vibes look like penises, and this periwinkle cutie is proof. With ~4 insertable inches, strong vibrations that run from shaft to the curved tip, and the shape is perfect for people looking to explore the pleasure potential of their G-spot. And since it's made of silky, body-safe silicone, it's waterproof and easy to clean.
Recommendation? "Try stimulating the external clitoris at the same time with your other hand while you explore lifting and drawing this vibe out to stroke the G-spot." Prepare yourself: This baby is the ultimate charmer.
Fun Factory Tiger – Most Well-Designed GSpot Vibrator
In case you aren't aware, Fun Factory is an excellent German company that engineers modern sex toys for all genders. If there's anything Germany is known for in recent years, it's kinky sex and engineering – a match made in heaven.
The Tiger has a flexible ribbed body made from medical-grade silicone, so every time you move the toy inside you, rippling sensations radiate through your pussy and make you feel VERY vulnerable.
In a sexy way, of course.
With easy controls, light up buttons, and a loop-handle base that's easy to hold even with lube on your hands, the engineers at Fun Factory really do think of everything.
Although it's not the sleekest or sexiest-looking toy in the world, you can tell that the Tiger is built to last. The powerful vibrations, curved tip, flexible body and ribbed shaft all combine to provide you with a wild night of pussy bliss.
Paloqueth G-Spot Rabbit Vibrator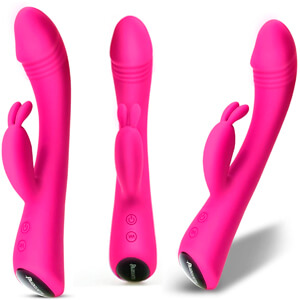 Yet another best-seller, this time in Amazon's top Vibrators category – Paloqueth Rabbit Vibrator, this dual stimulating vibrator features an angled dildo to hit the G spot and a pair of bunny ears positioned to stimulate the clitoris. Over 2,700 five-star reviews praise its soft, flexible design and versatile settings. "It has more than enough vibration patterns for me and I believe every woman can find what works for them," wrote one Amazon customer, "and it's also super easy to switch between them."
Lelo Gigi 2 – Waterproof G-Spot Vibrator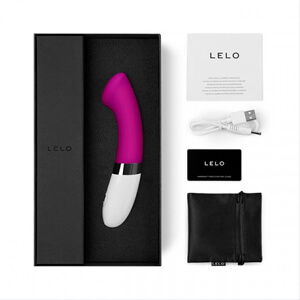 If you're having a hard time reaching your internal sweet spot, the Lelo Gigi has a uniquely broad tip that covers more surface area, maximizing your chances of hitting that all-important pleasure point!
100% waterproof, the Gigi 2 is perfect for a little bath or shower action.
Although it's pricey, Lelo is a luxury adult toy brand known for their velvety silicone exteriors that feel amazing with lube as they glide around effortlessly inside you, stroking your inner nerve endings with ease.
How To Use a G-Spot Vibrator?
Power Up!
Get comfortable…lie back, with some pillows behind you. And turn on your vibe!
Apply Lube
Sex toys are always more comfortable with lube, even if you're already wet. Pick a high-quality water-based lube like Sliquid Sassy that's pH-balanced, glycerin-free, and iso-osmolal (won't mess with water balance).
Insert…Or Don't!
G-spot vibes are of course made for G-spot stimulation, but you can choose to use them clitorally at any time. If you are looking for the G-spot, keep reading…
Explore Your Front Vag Wall
Not everyone's G-spot is exactly the same depth in, so explore. Most are 2 to 4 inches inside the vagina on the front wall (toward the belly button). The front vaginal wall underneath the G-spot is also rich in nerve endings!
Press Inward & Pull Down
When you find a place where a G-spot vibe's head feels good resting, then apply some forward pressure. Downward tugging motions also create even more G-spot arousal.
Find Your Right Vibe Speed
After you've found where your vibe feels right, then explore how strong you want your vibe to be! It's normal to enjoy more power as you get more aroused. Or sometimes you may get overstimulated and want to back down!
Listen to Your Body
If you feel like you have to pee, that's simply your G-spot being pressed on—totally normal. You may want more pressure, steady vibes, stronger vibes, whatever. Finding exactly what's right for your body at any time is a journey. With the right toy(s), a very orgasmic one!
Conclusion – The Best Vibrator Overall
There is no single "best vibrator"… it all depends on your needs, preferences, budget, and the type of G-spot vibrator you like to use. One person might love small and comfortable vibrator while the other prefers big and modern vibrator toys…
You get the drift!
However, taking price point out of the equation, here are our recommendation of the best G-spot vibrator in 2021:
Best G Spot Vibrator – Fun Factory Tiger (~$135)
We hope you find the perfect match for your body and sexual needs. Have fun and stay safe!