It's a terrible feeling to be alone with no sexual partner. It's equally frustrating with one too many relationship breakups when you feel like giving up on women entirely. Then you should treat yourself to a best sex doll. With love dolls, you can create the sex life you always fantasized about, without all the negative things that are part of a relationship.
A love doll is more than just a sex toy; it's an investment in your happiness.
With a realistic sex doll as your girlfriend, your life will be 100% free from loneliness and frustrations.
And today in 2021, you can find lifelike sex dolls that fit everyone's unique taste: big boobs, flat chested, brunette, Asian, African, BBW, or a mature sex doll, to name a few. Or why not a beauty that's a replica of your favorite pornstar like Nicole Anistone, Brandi Love, Lena Paul and other!?
But the many options can easily make any sane person overwhelmed. Also, you need to be aware of the many low-quality made-in-China products out there. Many of them will break very quickly, and they will look very different compared to their flashy marketing material.
But fear not. In this guide, I'll help sex doll fans navigate these confusing waters, and my sex doll guide will be of big help when you select the best sex dolls for your exact needs.
Let's dive right in!
How to Choose The Best Sex Doll in 2021?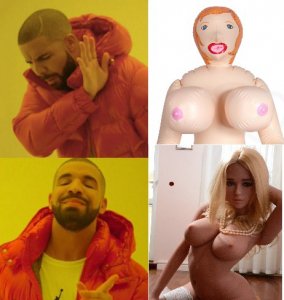 When buying anything, it is always more prudent to know exactly what the product is, how it works, and how you can make the most out of it. It is also essential to know the right elements to look for to have a hassle-free time in using it.
The same applies when buying a sex doll. The best sex dolls should have the right elements that fulfill the need, purpose, and preferences of the user. It should have the correct figure to fit the user's wants such as big boobs or flat-chested, standard butt or large ones, Asian look or MILF, elf sex dolls, blonde-haired dolls, and so on. There are even male sex dolls!
Aside from these, it is a must to consider these core qualities:
Material
There are two popular choices for sex doll material, TPE and silicone. Some dolls are made of plastic and rubber, but these aren't the good ones.
Silicone
The silicone used in sex dolls can either be platinum cured or medical grade. Both types give the doll superior qualities. It feels more lifelike with its soft, supple almost flesh-like feel.
Some dolls made with silicone also come with a durable skeletal system. This makes them more flexible and easier for posing. The body parts made of silicone are almost life-like. That includes the breasts, the butt, and the vagina. These parts look more real and feel real.
Some of the expensive ones also come with a self-healing mechanism. This makes the doll feel warm, just like a real woman. Silicone is a non-porous material and water-resistant. Oil does not ooze from the skin. Cleaning is much easier, too. Dolls made of silicone are more expensive but are more durable.
TPE
TPE is Thermoplastic Elastomer. It is cheaper than silicone, but it does not mean more inferior quality. TPE is, in fact, more widely preferred as it looks and feels a lot like silicone but for a much lesser price.
Dolls made from TPE have soft and squeezable bodies. These are also flexible and look realistic.
In fact, some of the best dolls made with TPE pose much better than those made with silicone. TPE allows for more stretch, especially when spreading the legs wide. Silicone usually has a stretch limit for this part.
One of the downsides is that TPE is an absorbent material, unlike the water-resistant, non-porous silicone. Condoms are highly recommended to make cleaning easier afterward. However, it still depends on the owner's preferences.
Size of Sex Doll
A lot of people buy life-sized sex dolls. Some choose dolls that are as tall as them or taller. That's fine. However, the issue here is how easy the doll can be handled.
Spending time with a bigger sex doll may seem like a good idea as the experience will be more realistic. That won't be so if you have to struggle with it to get into the positions you want.
Remember that sex dolls also come with skeletons, at least with ones made with silicone or TPE. Plastic sex dolls usually do not have metal skeletal frames. The skeleton makes the doll heavier.
A good recommendation is to choose a smaller sized doll. It isn't necessarily choosing a mini-doll. After all, you choose a sex doll to make the experience feel more real. In choosing sizes, check the weight. Sometimes, choosing a smaller and lighter one is better than going for a really tall and heavy doll that's difficult to maneuver.
Review Of Top 5 Favorite Sex Dolls
I am sure this is why you're here. The sex doll reviews! First and foremost, all the sex dolls I reviewed are of high quality. They have incredibly realistic skins and bendable metal skeletons and are manufactured using the highest quality standards and will last for many years.
I recommend you buy from LONOVE, KUUVAL, Sexy Real Sex Dolls and on Amazon. It's trusted sex doll brands that have sold luxury sex dolls for many years. Not only will you get the best products, but you also get a solid warranty!
Best Overall: KUUVAL Sex Doll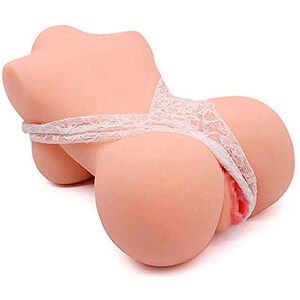 KUUVAL has come out with a multipurpose product that is ideal for use in various positions. It is capable of yielding to different needs of the user, as it has multiple holes. It is a perfect choice for breast, vaginal, and anal pleasure. Since this best blow up sex doll has medical grade materials, it works fine with a water-based or silicone lube. Crucially, one can use this product in multiple positions since it comes with spine support, which can help set erect without any support.
KUUVAL comes with the best sex doll on the market that can be used in various ways thanks to spine support. There are also crucial features like multiple grooves and ridges for added pleasure in the canal.
Why We Like It?
Different positions possible due to spine support;
Water-based lubricants are supported;
Several granules and bulges for stimulation;
Channels are long;
Three activities – vaginal, breast, and anal.
Best for Doggy Style: LONOVE Masturbator Sex Doll for Men
Lonove offers an ebony sex doll that can be a significant step up from the handheld masturbation game. Even though only the torso is available with this purchase, users will be able to appreciate the focus on pleasuring doggy style. There are two different channels – vaginal and anal. Both have been carefully designed to offer different sensations. Yet, the texture used would instantly remind users about the natural skin. Since this best inflatable sex doll is fully waterproof, it can be easily cleaned. One can also use non-silicone lubes.
This is a significant step up from the handheld masturbation technique, as users can derive pleasure from two channels. The product is also waterproof for maintaining high standards of hygiene.
Why We Like It?
Ability to support non-silicone lubes;
Specialist in doggy style;
Low price;
Realistic texture;
Waterproof.
Real Butt Size: Fondlove Sex Doll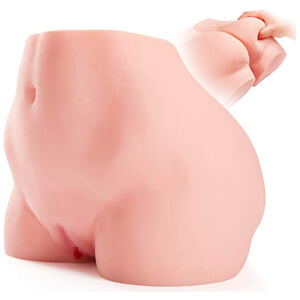 Fondlove provides a small product, which is extremely easy to use and store. It comes with a TPE material construction that is very realistic. This petite sex doll has an advanced design to perfectly fit your fantasies. Lifelike inner texture brings higher levels of realism. A nice touch on this chubby sex doll would be the ability to take a penis of 8 inches.
Featuring a well-designed and textured canal, Fondlove provides a compact yet powerful product. This toy will be able to give the best sensation for a lifelike sex toys lover.
Why We Like It?
Great for different positions;
TPE material construction;
Ability to accommodate an 8-inch penis;
Relatively compact.
Best for Realism: PALOQUETH Masturbator Sex Doll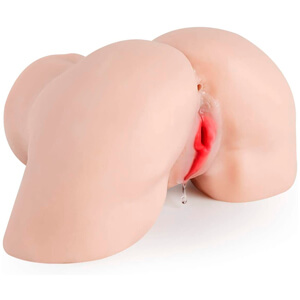 PALOQUETH has come out with a specialist lesbian sex doll that aims to produce maximum stimulation whilst occupying a compact dimension. The torso toy, though, manages to offer added realism since it has been wholly molded after taking a real person as a base. Even the two channels – vaginal and anal – have been modeled on the same person to increase the realistic feel. It is rather safe to use these BBW sex dolls – partly due to its water repellent capabilities and body-safe materials. This toy is travel-friendly and easy to store – it weights only 5 lbs.
This product comes with added realism with its life-sized stature and TPE material construction. Even though it can be hard to move around, users will derive a lot of pleasure.
Why We Like It?
Modeled on a real person;
Excellent water repellent capabilities;
Constructed out of body-safe materials;
Easy to clean;
Life-sized for a greater amount of realism.
Best Boobs: MichPong Sex Doll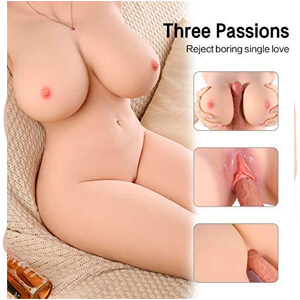 This realistic torso and boobs is the perfect choice for men who want a realistic experience without the price tag or a full-size sex doll's storage requirements.
She's made from silicone and comes with big, voluptuous breasts. The weight is 20.3 lb, making the experience very close to a real girl. And she has a realistic and inviting vagina and a sexy ass.
Her body is curvy with a slim waist and wide feminine hips. Inside here is a sturdy metal skeleton, so you can create whatever position you desire.
Finally, the silicone sex doll can be positioned on her back or against a wall. For the best enjoyment, I recommend using a water-based lubricant.
Why We Like It?
Great for different positions;
Lots of positive feedback on Amazon;
Good price;
Relatively compact.
Conclusion
Sex dolls shake things up in the bedroom. The experience can be quite real and very satisfactory. That is if you know what to look for, so you make the best choice among the best sex dolls in the adult market.
You should always consider what you like and what you want from experience. You may want a sex doll made from fabric even if it can be quite challenging to clean up after. That's your choice.
A well-informed buyer has a much better chance of buying the one best fitted for your needs and wants. Choose the one that caters to your fancy. Pick the one that's right for you, one you think will fulfill your needs. Nobody else will make that choice for you because only you know precisely what is perfect for you. Go out there and start looking for that perfect doll!