I am Kiera Baker, inherited many things from my mother: green eyes, a love of books, horrible passive-aggressive tendencies. But the thing I've been noticing most lately? I have the exact same back pain that I remember her having at my age. Not only does my back hurt frequently, but so does my neck, and both tend to cause headaches that last for days. In fact, much like my mother, the first sign I'm having back trouble is almost always waking up with a headache.
Now, I've done many things that help to prevent pain: I got a decent mattress topper, and better pillows, and lumbar support in my office chair, I've started an exercise regimen I don't hate, and so on. They help a lot! But sometimes? My back, neck, and head are just angry. Damien will touch my back and find serious muscle knots; they usually tell me to stop smuggling rocks. They give excellent back and neck rubs, but they are a mere mortal, and also, sometimes I have to give my safeword because the massage, while helpful, hurts a lot!
Fortunately for me, I am also a reviewer of sex toys. And I have found that many of these items can be repurposed to help with my pain and misery. Some may seem obvious, but some…maybe not so much. Here are some toys and other items I've found to be hugely helpful in coping with back pain.
Vibrators
This is probably the most obvious repurposed sex toy…since a lot of back massagers are repurposed into sex toys. The classic Magic Wand was originally sold as a back massaging wand, and Hitachi was so embarrassed that they sold it to Vibratex to try to keep their name pure or whatever their deal is.
As I've discussed a few times, wands aren't always my go-to for masturbation, unless I just need to slam one out real quick. But as a massage tool? My Bed Geek is a joy. The intense power and rumbliness means that the vibration can seep into my muscles, without being too uncomfortable. In addition, the long handle means that the vibrations don't transfer into my hands, or the hand of whoever might be holding it for me, and it means I can sometimes reach places on my back myself that would otherwise be inaccessible.
Wands aren't the only vibrator I use for pain, though! Its shape is actually really good for muscle knots, especially in my neck or shoulders. While I use the very end of it externally for masturbation, I use the mid-shaft "bump" against a sore spot on my neck. It's very precise, and strong, but the thick silicone also provides some cushion so it doesn't rattle my brain out of my head as the wand might.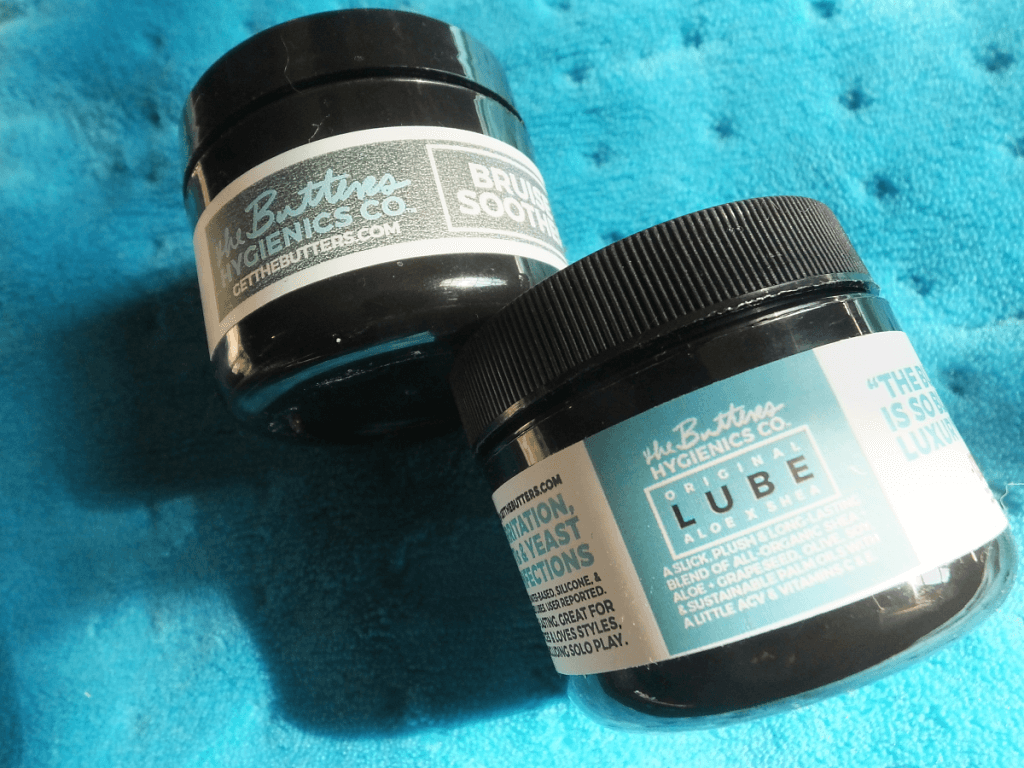 Lubes and Creams
Okay, I realize this sounds weird, but hear me out.
The Butters Hygienics Company are beautiful loving souls who have made my world a better place. They're an independent company probably best known for their lube…and I don't really like it as lube. It's too oily for my taste. But I'm still really glad I bought some to test out.
Because it is an amazing massage oil.
The buttery texture melts on skin contact, and it's smooth and oily and spreads like a meme. But it's also easy to wash off of someone's hands. More importantly, unlike many massage oils, it has no real fragrance, just a vaguely popcorn-y scent that doesn't bother me when my head hurts. And it's super inexpensive! You can get a small jar of the aloe/shea butter formula for $4!
And sometimes, when a massage isn't an option or just isn't enough, then we haul out the big guns.
The Butters Bruise Soother.
I love it for kinky aftercare, and I love it for normal bruise care…and I love it for angry muscles! It's a similar texture to their lube, but also contains arnica and calendula, both of which are commonly used for pain relief and reducing swelling. It really feels great to have rubbed on a sore back just as much as a sore butt.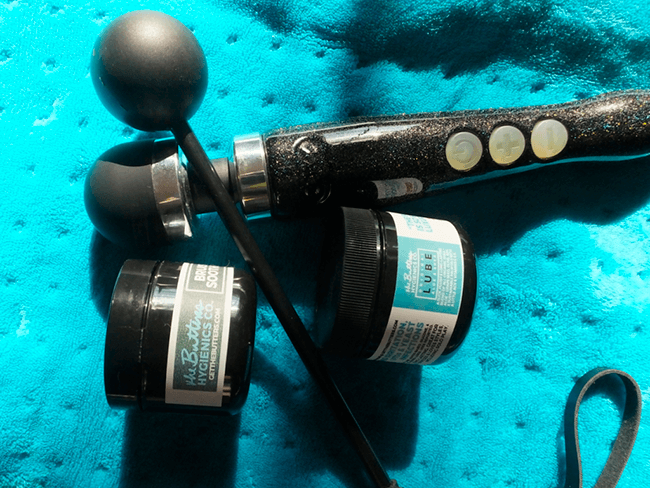 Impact toys
Recently, I was low-key desperate for some relief in my upper back. We'd recently received the Sex & Mischief Shadow Ball Crop, and while thuddy sensations aren't normally for me, I found I actually quite liked this one because it's a more concentrated thud. I was thinking about the muscle-deep sensation of a thuddy impact toy, and how my back pain was in a safe-to-hit zone (off to the side of my upper back) and I had a lightbulb moment.
Now, that was definitely a case of circumstances lining up: I wouldn't do this for lower back pain, or for my neck, or anywhere else that isn't safe to hit. But it was nice!
But I've also found, on occasion, that when pain is bad and just won't go away? Sometimes some normal impact play helps in and of itself. Not only does it distract me from my discomfort, but a more concentrated, deliberate pain can help to release endorphins, which are a natural painkiller. (Orgasm can do this, too!) A nice spanking also comes with reassurance, and when I'm sore or sick I love feeling a bit babied, so that ties in pretty well for me, too.
Have you ever repurposed a sex toy for a non-sexy purpose? Have you ever turned to a sex toy for pain relief? Feel free to comment below!