Every now and then, there's a sex toy that actually lives up to the hype. The Hitachi Magic Wand is one of those toys. It's capable of adding a magical experience to playtime whether you're flying solo or inviting someone else into the fun.
The versatility of the wand may be what really makes it so exciting. From masturbation to BDSM to anal, it can do it all. It's also capable of truly pounding down on the clitoris for an incredible orgasm unlike those little rubber flippers of so many modern-day vibrators.
Does Hitachi still make magic wand?
There's something important that you need to know about the magic wand. It's been around since the 1960s. It's not as fancy as some of the new-age vibrators, but it's iconic, nonetheless. The company would prefer for it to be called a 'personal massager,' but let's be real, it's a modern vibrator. It was considered taboo back then to think that a woman would want to pleasure herself. Masturbation was a no-no, but with the Hitachi, it was all about a night of self-care using a massager. That's when there was that 'wink, wink' thrown in there for good measure.
The Hitachi truly was magical as women could use it on those sore muscles and enjoy a sexual release without the presence of a man. It allowed women in the 1960s and 1970s to grab their Hitachi, walk into the bedroom, and tell everyone that they needed a massage. It wasn't a lie, and it sounded a lot better than announcing that they needed to 'get off' for a few minutes.
What is the magic wand used for?
The Hitachi isn't your average vibrator because of its shape, the lack of fun colors, and the presence of a cord. Why a cord? It delivers so much power that batteries simply aren't going to get the job done. That's okay, though. Find an electrical outlet nearby. Use an extension cord if you have to because the power in this vibrator is simply too good to pass up just because you can't find an outlet. Make it happen. There are battery-operated models available, but this way, you don't have to worry about it running out of juice just as things start to heat up.
It weighs about two pounds, so it's going to be the heaviest clitoral vibrator that you will ever use. Is it worth it? Absolutely. And if you decide to use it for play with a partner, you can make them hold it so that you can just enjoy the vibrations.
What the Hitachi can do for you?
The magic wand really is good as a massager. The vibrating head can work its way into all of your muscles. Let it do what it does best along your shoulders and down your back. It's also a great way to introduce your wand to a partner. Many men may be intimidated by you bringing a faux penis to the party. However, if he gets to know it as a back massager first, he'll be more inclined to plug it into the wall for you.
With a little lube, you can have the time of your life with this vibrating wand. The pulsing actions can go to full throttle in so many areas.
Tease yourself with it as you move to your clitoris. If you're having penetrative sex with a partner, you can hold the wand on your clit in order to get more of a screaming orgasm. It is not meant to go inside of you. Ever.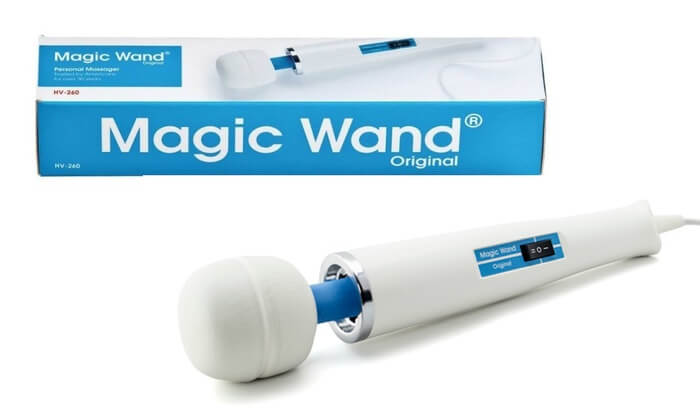 Do wands really work?
I can't speak highly enough about the way that this massager can send you screaming. If you're anything like me, you're going to want to involve a ball gag into the play. Otherwise, you might wake the neighbors.
Oh, and about the sounds, there's something else that you should know. It's loud. When it's on its highest speed, it sounds like there's a high-voltage appliance buzzing in the bed. It's going to be heard through thin walls. You may just want to turn the porno up a little louder or go for a sensory deprivation-style scenario where you blast the music and get blindfolded so that you only focus on the good vibrations of the Hitachi.
What can you do with a magic wand for anal?
Let's talk about anal play for a moment. A lot of lube is involved. Some women like the penetration of a penis or a dildo into their backside. The Hitachi is not to be used to probe all the way up there. However, it can be used around the butthole in order to help with the relaxing sensations. It makes it easier to get anal penetration without worrying about tensing up along the way. Should you want to use the wand around the butthole and swing it back into the front, you can always throw a condom on the heat to avoid transferring bacteria from the anus to the urethra.
There's also a bit of a warning that should be mentioned. The Hitachi Magic Wand is not the kind of thing that beginners should use. Clearly, women in the 1960s and 1970s didn't have a choice in the matter. They were dealing with a sexual revolution and needed to use a vibrator disguised as a massager. Now, most women are used to rabbits and bullets and other harmless products that they use to get a bit of an orgasm going.
Conclusion
The Hitachi Magic Wand is a powerful beast that is capable of getting an orgasm out of even the toughest nut to crack in about 10 seconds flat. If a woman has never orgasmed before, she may feel as though she is dying. She may feel as though the devil is being ripped from her being. Especially if someone uses it on high by accident to start out, it can be a rush of emotions. This is definitely the kind of sex toy that is designed for women who have already fooled around with vibrators. They know that they're ready for something bigger. That's when the Hitachi can be the best bedside tool in the entire world.