Being able to enjoy a toe-tingling orgasm is easier than ever with the latest and greatest vibrators. The only decision you have to make is which one can give you the biggest bang for your buck. There are so many new vibrators out on the market, which can make it harder to choose.
While there are plenty of vibrators out there, ranging from classic to bullet, the combination vibrator is the most sought after. The rabbit vibrator, specifically, ensures that you get a shaft as well as a clitoral stimulator to ensure that you get the good vibrations that you're searching for.
2021 brings a significant amount of technology to the market that isn't as taboo as it used to be. We've rounded out the top 10 rabbit vibrators to make it easier for you to choose the one that will give you the most pleasure.
Crater Auto-Heating Rabbit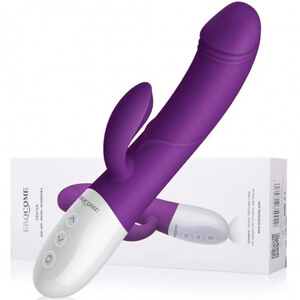 What could be more exciting than a vibrating rabbit that brings a little heat to the game? The Crater Purple Auto-Heating Rabbit has an automatic heating feature that adds some warmth so that you get more of the human touch. It's waterproof, too, allowing you to get creative as to where you want the fun to happen. It's one of the quietest vibrators on the market, ensuring that you can whip it out for pleasure without waking anyone nearby. With the dual vibrations, you can decide when and where you want the motor to hit you. Plus, with the rechargeable battery, you never have to worry about running out of power.
Rechargeable Bunny Ears G Spot Vibrator by Paloqueth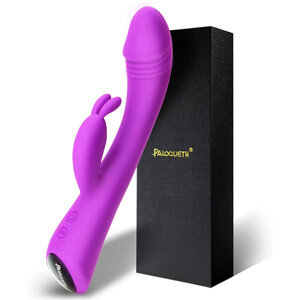 This Paloqueth Vibrator has the infamous bunny ears on the clitoral stimulator to give you the screaming O you have been looking for. The ergonomic design of the shaft allows you to take pleasure into your own hands. With the waterproof feature, you can take it into the tub or shower with you. Plus, the USB charge allows you to get your release without having to pause to go find new batteries. The nine vibrating modules also keep things interesting, so you don't grow bored with your new toy.
Climaximum Rechargeable Rabbit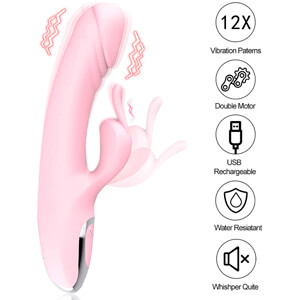 The Climaximum Rabbit is a velvety soft vibrator that will instantly get you in the mood. Not only does it have 10 functions but also two motors to give you the combo fun you need for a quality orgasm. A color-changing LED is found at the bottom of the vibrator. The unit also fits in the palm of your hand, allowing you to take your good time tech anywhere you want to go. With a magnetic USB charge, you can be sure to keep it charged on the go.
CalExotics Waterproof Jack Rabbit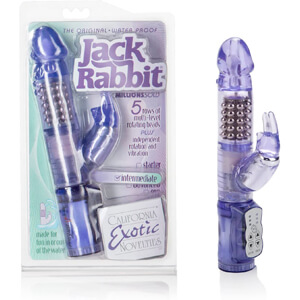 The CalExotics Waterproof Jack Rabbit is a futuristic-looking vibrator that looks as though it's traveled back in time just to give you the orgasm of the century. Available in four colors (purple, pink, blue, and clear), it's a stylish looking vibrator that is designed to give you just what you need. There are five rows of carbon steel rotating beads to help give you the G-spot orgasm you need. Plus, there are three speeds to make sure you get there in a timely fashion. The flexible rabbit ears of the clitoral stimulator will vibrate back and forth, ensuring that you're trembling for all the right reasons. The LED controls also makes it easy to get your groove on in the dark to ensure that you get the speed that you desire.
Telescopic Rabbit Vibrator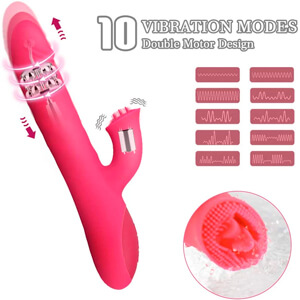 The role of any good vibrator is to make it feel as close to the real thing as possible. This unique Telescopic Rabbit Vibrator by Treediride is filled with features that will have your whole body thrumming with need in a matter of seconds. Not only is there a telescopic feature that allows it to "grow" inside of you, there are also beads throughout the shaft that rotate this way and that. As for the clitoral stimulator, it feels just like a tongue, ensuring that you get the climax that you have been clamoring for. The vibrator is skin-friendly, made of silicone. It's easy to clean, allowing you to pack it away so that it's ready the next time you are.
3-in-1 G-Spot Anal Vibrator Rabbit
One of the most exciting rabbit vibrators on the market right now is the 3-in-1 Vibrator. Whether you're playing alone or with a partner, this one powerful massager does it all. With seven vibration modes, you can simultaneously stimulate your g-spot, clitoris, and anus. It's completely rechargeable vibrator, so you never have to worry about the battery dying in the middle of your orgasm. Perhaps the best part is that it's waterproof, so you can choose to have your sexy fun anywhere and everywhere. The ergonomic shape allows you to get the job done or hand it off to a partner.
Calexotics Orange County Cutie Thrusting Rabbit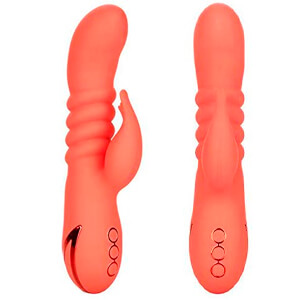 The Calexotics Thrusting Rabbit gives you the thrusting action you don't typically expect to find in a vibrator. When you want to have solo fun without giving up any of your favorite moves, this vibrator knows just how to perform. The clitoral rabbit ears also have a flickering motion that will tease and tempt you. A memory chip will also "remember" the last function so that you can get to the good parts faster. Whether you play alone or with a partner, the 10 vibratory functions and the three thrusting speeds are a guaranteed way to enjoy yourself.
Miss Bi Vibrator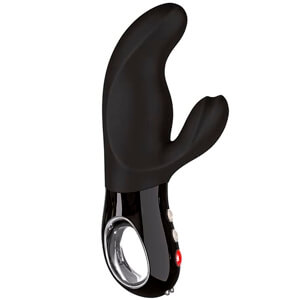 With the Miss Bi Vibrator, you get pocket-sized fun that really knows how to pack a punch. Miss Bi is available in an array of colors to fit your personality. With the ergonomic loop handle, you can enhance your between-the-sheets fun while holding on with ease. There's a quick-stop feature for when you simply can't handle anymore. The USB charger keeps the power coming, and you can have 45 minutes of non-stop fun on the highest speed before you have to pause for a recharge. Plus, you can take advantage of the key lock when you travel so there are no embarrassing vibrations as you go through airport security.
Happy Rabbit G-Spot Rechargeable Rabbit Vibrator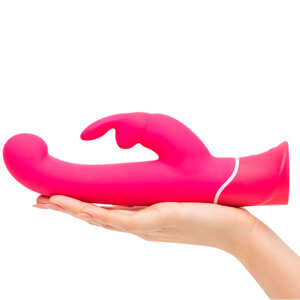 There's a reason they call this one the Happy Rabbit. It's going to make you happy as you take advantage of the dual G-spot and clitoral vibrations. You have a total of 15 vibrations to choose from, and you're not going to run out of juice anytime in the near future as the rechargeable battery can go for 120 minutes of play on a single charge. From the gently curved shaft to the realistic tip, this vibrator knows exactly what it's doing. It'll have you screaming your pleasure in no time, and with the slender size, it's perfect for those who don't want to be overwhelmed by girth.
LELO Soraya 2 Rabbit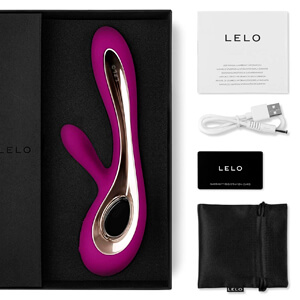 The LELO Soraya 2 may fool you by looking like a work of art. This is one of the best Rabbit Vibrators in the US. However, the moment you turn it on, it will be vibrating to a tune that is sure to shake you to your core. It's whisper-quiet so you can be discreet in where you choose to get off. With the waterproof exterior, you can even take a sensual bath. You can choose from 13 settings to find the way to take care of your needs, whether you want a soft buildup or a heart-stopping crescendo. The curvy vibrator also fits the curves of your body so that you get a delicious shaft along with a clitoral stimulator that stays in place.
How To Use a Rabbit Vibrator?
Each rabbit vibrator will be slightly different depending on brand and model. However, most have the same functions and operate the same way. Here's a quick overview of how a first-time user should go about it.
Press the various buttons

Firstly, press the various buttons to get an understanding of how the vibrator works. There should be multiple buttons to increase speed and intensity. Once you feel you have a solid grasp of what the buttons do you're ready to move on to the next step.

Use water-based lube

Next, you're going to want to use water-based lube to lubricate the dildo or insertable end of the vibrator. Lube makes everything easier and more enjoyable. Don't use silicone lube or you could damage your toy.

Lay on your back

Lay down a towel or two and get yourself in a relaxed position. Laying on your back is often the most comfortable and allows for easy control of speed and intensity.

Stay relaxed

Slowly insert the rabbit vibrator into yourself. Find a comfortable depth and place the "rabbit ears" on your clitoris. Stay relaxed!

Turn on your sex toy

Turn on your toy to the lowest possible settings. Start slow and ease your way up to higher intensity. Change the position on the vibe until you hit that "sweet spot."

Enjoy

Prepare for the fireworks and enjoy!
Conclusion
We hope you've enjoyed reading our top 10 rabbit vibrators review. They really are a gamechanger for women. If you have any comments or questions, you can use our contact form and leave a comment below.