Wand massagers are back in business as one of the best modern sex toys money can buy.
If you're in the market for a great wand massager, the amount of available options are bound to make your head spin. Most people are familiar with the Hitatchi Wand first and foremost, but there are plenty of other options out there to consider.
Don't make the common mistake of going for a "no-name brand" vibrator or wand massager: These are notorious for breaking sooner rather than later, and some of them go on the market without the proper testing and certification to ensure they are safe to use.
The Bed Geek Wand Massager is a hugely popular option right now. But is it any good?
Here's a look at what the Bed Geek wand massager has to offer in terms of features, functionality, pros and cons – and why you might want to consider adding this one to your shopping list this year.
Introducing the Bed Geek Wand Massager
The Bed Geek brand has been around for a few years with a good reputation for providing high-quality sex toys that last.
If you're looking for a personal massager that's small and portable yet powerful enough, while being able to cater to any kind of stimulation you might crave (both clitoral and deep), then this might be the one for you.
It's great for travel (or keeping in the nightstand drawer): It's even great for using in the shower, since the Bed Geek promises to be waterproof.
Could this be the right choice for you?
Let's look at some of the most important features.
Features
What exactly does the Bed Geek wand massager do – and why is it worth your money? Here's a rundown of the basic features.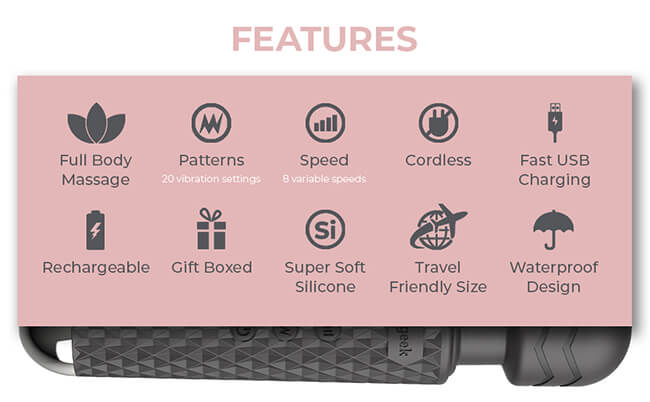 USB Charging:
It's easy enough to charge the Bed Geek to full capacity. Just plug the USB cable into the side – not the bottom! – and you're good to go. Lasts at least a few hours' worth on a full charge, which means that it only needs to be charged every once in a while.
Comfortable Size (20cm x 4cm):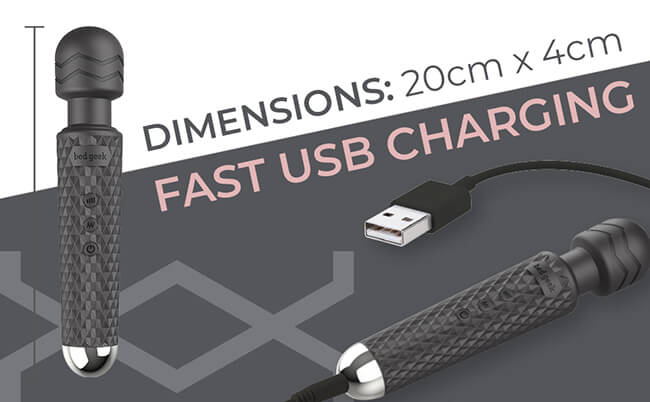 It's not too big and not too small, which also means that it's not too heavy and won't strain your wrists in the process. Comfortable size and more than comfortable grip, which is great when you're in the moment and don't want to lose your grip on it at an essential moment a few seconds before orgasm.
2 Speed Options:
This vibrator offers 2 variable speed options. While this doesn't seem like a lot, what makes up for it is the addition of more than 25 vibrational patterns to tickle your, well, fancy.
25 Vibrational Patterns:
Vibrational patterns weren't a thing when the Hitatchi wand was first released, and many cheaper (or older) vibrators still don't have the "vibrational pattern" option. Patterns can be cycled through easily with the + and – buttons, and you'll quickly find a favorite between the 25 the Bed Geek has to offer.

Easy to Use:
There's no reason for a vibrator or massager to look like the instrument panel of an airplane. The Bed Geek has only three buttons: Power and the buttons that cycle through the vibrations – and that's all you really need.
Carry Case:
Most women I know prefer to travel with their personal massagers. The Bed Geek is great because it has an added (discreet!) carry case that comes with it.
Waterproof:
Phones aren't the only things you can get in waterproof varieties these days. Vibrators and massagers count too! The Bed Geek wand massager is completely safe to use in the shower.
Made from Silicone:
Silicone construction makes the Bed Geek wand massager one of the most durable sex toys you can buy: Non-allergenic for anyone sensitive to other materials, and soft with no weird "seams" or edges.
Pros: Why It's Great?
Away from the most basic features of the Bed Geek, there are a few more things that make it a great wand massager to buy or add to your existing collection. Here are some of the pros of the Bed Geek.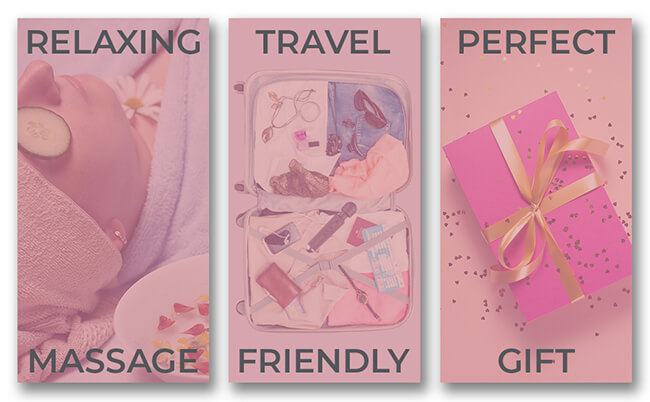 Dragon Skin Pattern
Condoms aren't the only items that are "ribbed for her pleasure." The Bed Geek personal massager has what they call a unique "dragon skin pattern" that guarantees to hit the right spots every time no matter how you prefer your orgasms: Shaken or stirred.
Flexible Head
Flexibility is pretty important when it comes to personal massagers and hitting the right spot. The Bed Geek wand massager has a great, flexible head that can practically help you have an orgasm around a corner.
Bed Geek Easy-to-Use
The Bed Geek massager is easy to use even if you've never owned a wand massager before. The buttons are limited to power and setting cycle: Simple to use, and easy to enjoy. (As an important side-note, the power button has to be held down to switch on and off!)
Great Size
Wand massagers don't have to be big, bulky things that people remember from the seventies and eighties (or porn from that time!). Instead, most wand massagers these days are portable and the Bed Geek measures 20cm by 4cm – this means it's a great fit for any size or preference.
Cordless Design
A great deal of wand massagers – including the original Hitatchi magic wand – plug into the wall for use. This isn't ideal, and it's normal to say that a sex toy that needs to plug into a wall makes most people cringe. Luckily, the Bed Geek massager charges via USB, and works without the need to be plugged into anything electrical.
Arrives in a Travel Case
One of the best things about this luxury wand massager is the portable travel case: It's small and discreet, and might as well be a little box for your tools or make-up. There's nothing obvious that says "THIS IS A SEX TOY" on the packaging – so you can literally take it anywhere you like.
Cons: Why It's Bad?
All products have pros and cons. Here are some of the cons that users might find with the Bed Geek wand massager.
Can Be Confusing
One of the most common questions asked online related to the Bed Geek wand massager is the fact that people had trouble figuring out where to charge it. For the record: No, don't try to remove the bottom to get to the charging point. Instead, look towards the side (or read the instructions you'll get with the Bed Geek!).
Lack of Speed
While the Bed Geek has 25 built-in vibrational patterns that can keep most women happy, the lack of speed settings (with the Wand Geek having only two of them) can be a drawback for anyone who is more used to different speeds than different patterns.