Is it ok to admit we chose the Blow Job Master Masturbator for review simply because of its sci-fi vibes and oozing Star Wars? Well, we did! Do you not think this toy oozes a stormtrooper vibe?
The Blow Job Master Masturbator, of course, is nothing related to Star Wars, it is a thrusting style masturbator toy and in reality, I do think it has been named inaccurately because when I hear blowjob attached to a toy I automatically expect suction except this toy has none. I do think the reason it has gotten its name is because the sleeve is extremely textured, quite tight and once it is loaded up with lube could simulate a blowjob. It turns out after a little googling this is in fact the YouCups PowerGun toy which sounds definitely sounds more StarWars-y than Blow Job Master Masturbator.
Inside the box, you get your toy, an instruction leaflet, a USB charger, and a sachet of lube. I will admit the information on the outer packaging is a bit confusing as it mentions AAA batteries and honestly as most toys are in fact rechargeable now, I never have any in so I started to make a note in my head to remember to pick some up. However, when I took out the toy to photograph it, out popped a USB cable too and I rejoiced as I have been known to forget the batteries!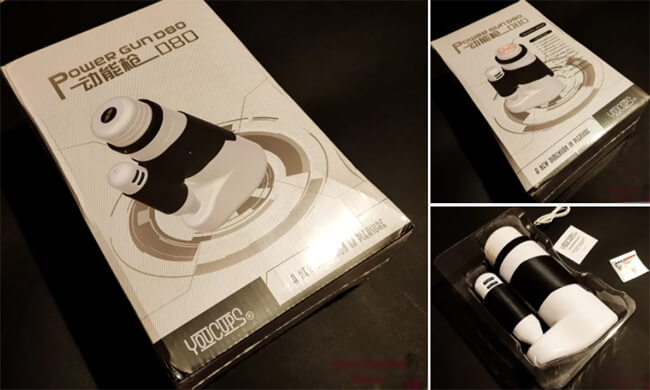 The Blow Job Master Masturbator is made of two parts that are linked together – the sleeve and part that actually thrusts and the controls, which really doubles up as a handle. The controls are placed very conveniently at the top of the toy and can be really easily controlled without needing to look at them. The very top of the handle is also where the toy is charged via a pin-style charger. The charging point is fully exposed so it leads me to believe this toy isn't waterproof so I wouldn't be taking it into the shower or bath. I would use a damp cloth to clean the outside of the plastic too and I would advise taking care around the charging point.
The area where the sleeve is can be completely screwed off to allow effective cleaning. You screw the main bit out and then you remove the cap around the top of the tube. The entire sleeve can then be removed, washed, and turned completely inside out to dry correctly. It is made from TPE so it does need a little extra care and it needs to be dusted with cornflour to help maintain the soft texture otherwise it can go tacky, which is normal. A dusting of cornflour helps. Also, it is worth noting not to share TPE toys with a partner because the material is porous and can harbour bacteria over time.
Overall, the Blow Job Master Masturbator toy is very ergonomic. Light, easy to use, looks funky and at less than $80 for a thrusting toy isn't too expensive. The next question is though – what is it like in use?
The controls on the YouCups Blow Job Master Masturbator are extremely responsive – one button controls power, the other to stroking style. It is instant power on/power off, which I love!! There are various levels of speed and some of those have slower, patterned style strokes build in as well as super fast strokes for an epic fast wank. The faster you go, the louder the toy gets but in my opinion, is by no means loud at all.
How to use Blow Job Master (Video)
As I expected you need lashings of lube!! My OH opted to use his favourite lube and started off with a little amount but quickly ended up grabbing the bottle and lashing on more. The combination of the toy actually moving and being exposed to air as well as the sleeve being made of TPE means lots of lube is needed.
He really likes the material used in the sleeve. Feels good in use, not realistic as other toys we have tried so if realistic feeling toys are your thing, this may not be for you! He does miss the heat up function that other toys have however, given the price tag over under $80 it is understandable why it doesn't have one.
The inside of the sleeve starts off with lots of firm, squishy bumps – yeah I know, that contradicts itself but they are quite firm, hold their shape well yet are squishy and push inwards with pressure. Next, there are soft spikes and finally hollow circle that seem to suck on the end of him in use. Maybe it's the lube getting caught in them and causing a suction but it is like lots of sucky little kisses, however, this sensation can only we felt on slow strokes or when he uses himself without the power even on. Once you use faster modes, the bumps and spikes are all you feel.