Like many others, when I was first reading sex blogs, I quickly discovered that there was one bullet toy to rule all bullet toys, one holy grail to aim for: The We-Vibe Tango. Beloved by such prominent sex bloggers as Epiphora and Dangerous Lilly, word on the street was that it was perhaps the rumbliest pinpoint toy on the market. With its flat-tipped head, it boasted a strength and precision that was difficult to find.
It was also expensive, and when I was first reading sex blogs, that was not an option for me. I settled for my $10-on-sale Rocks-Off bullet and only dreamed of luxury toys like the Tango. And even once I became a sex blogger, and had access to more toys, I just…never got around to getting a Tango, let alone reviewing one. Since I try to focus a lot (albeit not exclusively) on budget toys, and I had a lot of other lovely bullets to try, it just wasn't a priority.
And then, We-Vibe decided to upgrade their classic toy, and Betty's Toy Box asked me some of my favorite words: "Hey nerd, you wanna try this?" (Paraphrased slightly.)
So, after many years of seeing the Tango, pressing my face to the metaphorical shop window like an urchin outside a candy store, finally, a kindly soul took pity on me and I got my first taste of a We-Vibe toy.
The new We-Vibe Tango X is designed as an improvement on the classic Tango, but since I never had a classic, I cannot compare. I can compare it to the many other bullets I've tried, including some pretty obvious dupes of the original, but above all, I can judge it on its own merits.
The We-Vibe Tango X I received is in a very pretty red—it's fitting that it's a lipstick vibe, since it looks like a classic lip color. (It's also available in dark blue.) Unlike the older Tango, the X has a layer of silicone on the end you hold onto, to cushion your hand a little and to provide a place to put the buttons.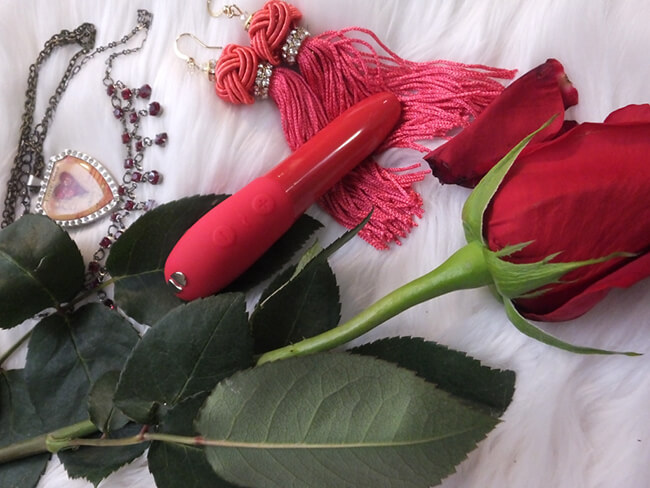 Now, y'all know I have some strong opinions on buttons. Single buttons annoy the hell out of me, especially if there are patterns, because you have to wade through all the settings to get back to a lower one, and it's just frustrating. So, imagine my delight when I discovered that the Tango X has three buttons! There's an up button, a down button, and a pattern button, so if you don't want patterns, you can just. Not use them. Or, you can cycle through the patterns, and then use the up/down arrows for more or less intensity to the patterns. Joy! Glory! Rapture!
The up/down part alone is interesting. It has 8 official intensity settings, but the buttons make it feel more incremental rather than just several levels—that is to say, if you hold down the + button, it becomes gradually stronger, or if you hold down the – button, it becomes gradually gentler. This does mean that you can increase or decrease to the exact strength you need without interruption, although it has a drawback in that it can be hard to replicate a setting that works for you without fiddling a fair amount.
The charger is a magnetic charger (the connector for it confused me because they look like more buttons, but they aren't) that's ridiculously strong. I could probably swing it around by the charge cord for a few times without it disconnecting, a theory that I do not intend to test due to a fondness for my mirrors and windows.
My one concern with the redesign was that the addition of the silicone handle would mean it no longer fit in sleeves designed for the Tango. I am happy to report that, judging from the one (1) sleeve I own, it fits well enough to function, so that concern was unfounded!
So, that's the basic stats, but that's not what we're here for. What we want to know is this: how is the Tango X in use?
Well, I'm about to issue my most controversial sex blogger opinion yet.
The Tango X… Is fine.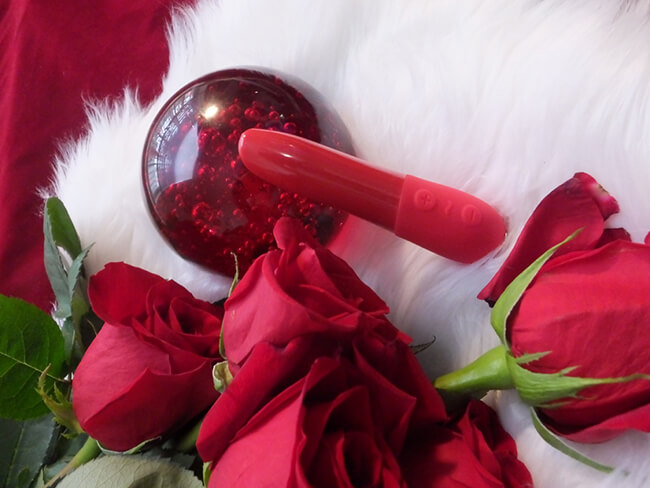 Look. It's a good vibrator. It is strong, it is rumbly. These are not lies! If you have always wanted a Tango and you think the Tango X is pretty and you have $79 set aside for a new vibrator, yes! Buy it! You will be happy with your purchase!
But technology has caught up to We-Vibe, and it is no longer the only contender in the ring. And what's more…it had a few little things that I found frustrating.
First of all, the silicone handle does not prevent the vibrations from going into my hand. I didn't really expect it to, but somehow I actually found the Tango X more annoying to hold than most of my other bullets. I don't know if the silicone somehow amplifies it, or if it's because of the strength of the motor translating, or what, but dang, my retail-damaged wrists don't love this thing. My spouse (who also has some wrist issues) actually thought it felt like it was burning their hand, so that's…not super ideal.
But the greater issue is that fat labia seem to dull the sensations and that's just kinda rude.
I found in my experiments that if I'm using the We-Vibe Tango X and only the Tango X, I can spread my labia with my free hand, and it feels fantastic. It is a very strong toy, as established, and if you like that sort of thing, this is the sort of thing you'll like! I actually have to tone it down from the highest point, because that's too much for me if it's directly on my clit.
But if I try to do something with my other hand—use a dildo, for example, or hold onto the blanket because it feels good, or, I dunno, order pizza on my phone for when I'm done (I have not done this but I won't rule it out) then…my labia are now closed in. The Tango X's powers are diminished, and go into the west.
Don't get me wrong: I can still get off! I still have orgasms, even with the lessened power. It's still strong enough to Feel Good, but I'm not getting the full power of the toy anymore. And this is not something I experience with most bullet vibrators—in fact, that's one of the things I like about narrow, pinpoint toys, is that I can easily get to my clit without having to attach the eyelid clamps from A Clockwork Orange to my vulva.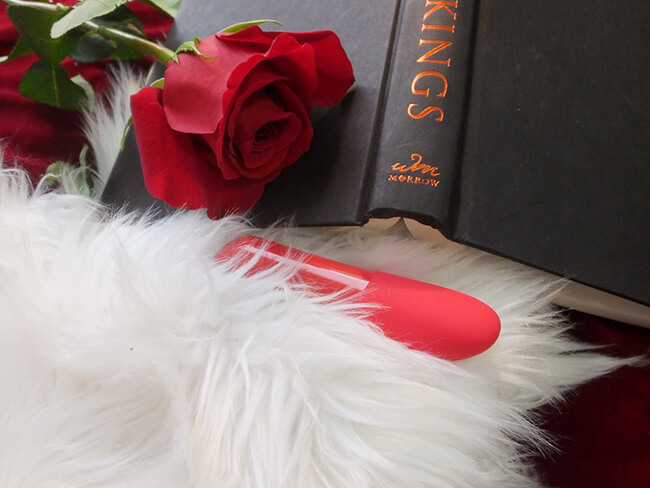 Like, dude, I'm fat and like dildos, I should not be getting rationed vibration because of those facts. The Tango X makes me feel like a damaged weirdo, and I don't enjoy that feeling when I'm masturbating.
So, I'm gonna be honest: while I'm glad I finally got to try a Tango, and I recognize why it's so popular, it is not my favorite bullet vibrator. That would be The Realm Silver Bullet, which has no problem with my fat outer labia, and is also $33 less. For the price of the Tango X, I could buy an excellent vibrator and a silicone dildo to use with it.
Does that mean I don't recommend the We-Vibe Tango X? No, not at all.
Just because the Tango X has some problems for me, doesn't mean it's not a good toy. And as I said: I could still get off with it! It isn't necessarily compatible with my preferred masturbation methods, but I still enjoyed using it.
Heck, when I was testing it out, I noticed a huge wasp in my room, and considered just staying there and finishing and hoping it didn't notice, because the vibrator felt good! (If you're wondering, I did not do so. Wasp removal was determined to be slightly more important than orgasm.) You know a toy that makes me consider contending with a large stinging insect is worth considering!
Some people are definitely going to love this toy. If you really struggle with orgasm, I honestly think this might be a good option for you. If you have a hand to spare (or a partner with a hand to spare) to make sure there's no labular interference, the Tango X just might help you experience orgasm. For its faults, it is more powerful than the majority of bullets out there. And if you really don't give a shit if you can use a dildo or whatever while you masturbate, hey, go for it! For that matter, if you're built in such a way that you don't anticipate having a problem with your fat outer labia getting in the way…rock on.
The Bottom Line
The We-Vibe Tango X! It's a well-designed toy, it's very powerful, and…it's not for me. I'm still grateful I got the chance to find that out for myself.