I've been super excited about the On The Go Packer from Tantus since it was released last year, and I'm excited to have the chance to review it! Packers are one of my favourite kinds of products to review—I've been packing pretty much daily for around 8 years now, so I have a long list of personal preferences and mental taxonomies around them and can really get stuck in—and given this is Tantus' first packer, I was excited to see what they were bringing to the table.
And speaking of preferences…
Context and Caveats
As packers are used by a wide variety of people with different body types and with different types of interest in them, I figured it might be helpful to start this review with some context, both in terms of who I am and why I pack, as well as some of the general presences I came to trying the Tantus On The Go Packer with.
I'm a trans man who packs for bottom dysphoria reasons pretty regularly. I would say 'every day' except that I tend to only pack if I'm going outside, which hasn't been a daily thing during the pandemic. While my motivation behind packing is primarily dysphoria related, I'm not always specifically looking for realism when it comes to packers – I have a soft spot for fantasy packers actually – although I do prefer having penis shapes rather than something more abstract, which is why even as a broke trans teenager I never bothered with sock packing or doing the whole DIY condoms-and-hairgel thing.
I generally prefer packers that are on the larger side. This is for a few reasons. The first is my build – I'm on the tall side for a transmasculine person, and I have a little bit of a belly. Larger packers are not only a bit more noticeable on me, but also feel more 'right' for my build than smaller ones.
I also tend to pretty much exclusively wear jeans when I go out, which also tend to be on the looser side. That more rigid denim fabric can sometimes compress my packers a little bit, holding them in place better than say, sweatpants, plus the loose fit means I can get away with a larger bulge than I would in skinny jeans.
The On The Go Packer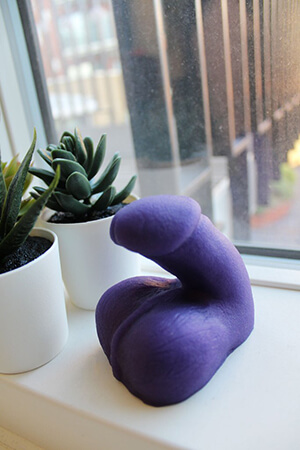 Now that I've disclosed my preferences when it comes to packers, let's talk about the On The Go Packer itself. It's on the smaller side—actually the smallest packer I own—with a total length of 3 inches. It very much reminds me of the old XS Mr Limpy packers, except not in TPE. It comes in four colours, one of which is the lovely purple colour that I chose and the other three of which are skin tones. All three shades are the same price- $34.99 – and there's only one size.
As well as being the smallest packer I own, the On The Go is also the lightest. While it's not something I've though about when actually wearing it, when holding it in my hand and comparing it to some of my other packers—like the Packer Gear Silicone Packer, Vixen Mr Right, or NYTC Archer—the difference is super obvious. With back to back testing, I have found that I prefer heavier packers, but that's a personal preference.
The On The Go packer has a realistic shape, although it is sort of in the 'some detailing but not fully detailed' category that most packers seem to fall into. I don't have any issues with this, and I do think that the reason most packers fall into this zone is it avoids the potential 'uncanny valley' of more detailed packers. If you are looking for hyperrealism, the On The Go Packer isn't that—I'd suggest looking into products more in the prosthetic category, although those do tend to be more expensive—but it does have a good number of features that make it feel like more than a vaguely dick shaped blob. There's a vein on the underside of the shaft and down the balls that's pretty prominent, as well as a defined head (this packer is circumcised—the only non-fantasy and non-prosthetic level packer I know of that isn't is the NYTC Pierre) and some texturing on the balls.
GOOD – Tantus values the sexual health of our customers over profit. When you contact us, you'll deal with a real human being who is committed to your satisfaction.
CLEAN – The superior quality of Tantus silicone makes our toys hypoallergenic, non-toxic, free of phthalates and heavy metals, odorless, bleachable, boilable and even dishwasher safe.
FUN – Tantus toys are designed to be anatomically appropriate for human bodies to encourage the best sex ever! We celebrate sexuality and encourage consenting adults to explore their erotic side.
My Thoughts
In honesty, the On The Go Packer doesn't line up with a bunch of my personal preferences when it comes to packing, and I think that's reflected in my takes on it. My initial reaction to putting the On The Go Packer on was that it felt noticeably small. While wearing it outside did mitigate my bottom dysphoria, I didn't get the spark of gender euphoria from wearing it that I do from some of my other packers (my Kudu Voodoo packers and Vixen Mr Right in particular).
That said, I did find situations where I think it worked better than my other packers would. Because it's so small and squishy, I've found I prefer wearing the On The Go Packer if I'm in sweatpants, which is a lot of the time now as I've been working from home since February. Given it's also made from squishier silicone than my other packers, I've also found the On The Go Packer is more comfortable to lie on my front while wearing, and I've occasionally been sleeping while wearing it because of that.
The way that the shaft hangs also makes it pretty flexible in terms of how you want to wear it. I'm pretty much always a 'pack down' kind of person, but I do know that some people prefer to 'pack up', and both are possible with the On The Go Packer. That said, I would suggest gentleness and caution when packing up, as applying force does risk ripping the soft silicone.
In terms of the grab test? That soft silicone really shines. The On The Go Packer really does feel very much like a flaccid penis, more so than some of the more
firmer packers I own. That said, i have found that the softness means I don't really like the On The Go Packer for things like frottage or handjobs. With firmer silicones, the pressure on my packer gets transferred to my body really well, whereas I find that some of the pressure on the On The Go packer gets lost.
Conclusion
Is the Tantus On The Go right for you? I think that depends on a handful of questions: What's your build like? Do you prefer smaller packers? Is a noticeable bulge important to you? What kind of clothing do you tend to wear?
I think it's a great packer for a lot of people—most of the tmascs I know in real life tend to prefer packing on the smaller side and/or tend to have builds where large bulges can look odd, and the On The Go packer would work really well for those kinds of preferences. Other times I can see the On The Go working really well for somebody is if your personal style tends towards tighter or skinny jeans or if you're a sweatpants person—once gyms reopen, I'm pretty sure the On The Go will become my gym packer.
If your body/preferences/style are more like mine (tall for a transmasc, slightly chubby, larger packers, looser jeans only), then the On The Go probably isn't going to be a good everyday packer for you. But that doesn't mean there aren't times when it shines. I know I've mentioned them a few times in this post, but having a packer that works really well for PJs/sweatpants and sleeping in has been really great! If you're looking for One Packer To Rule Them All™, I'd push you towards the NYTC Archer/Pierre or Vixen Mr Right, but if you do want two packers, having the On The Go as a backup option would be really valuable.