I often get emails asking people for help picking out their first ever vibrator in 2021. This is a tricky request to fulfil, because if you've never tried a vibrator before it can be hard to know what you're going to enjoy or what will work for your body. Do you like penetration or external stimulation only? Maybe do you like broad surface stimulation, or do you want pinpointed vibrations? Do you want something fluttery and soft or deep and rumbly? I'll tell you a secret – CalExotics Embrace silicone waterproof vibrator is what you need!
Sex toys aren't something that you can try out before you buy, and it can be a challenge to find a toy that lets you experience a range of sensations to see what works for you. When I found the Embrace Body Wand by CalExotics, I was sure I was onto a fantastic beginner vibrator that does just that.
About The CalExotics Embrace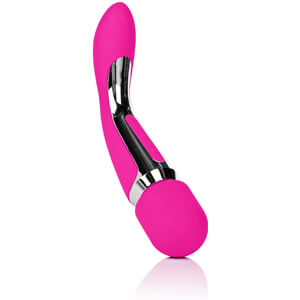 The Embrace Body Wand by CalExotics is a wand-style vibrator with a twist. One end is a traditional wand shape, while the other end is tapered for insertion. Each end is powered by it's own motor, which are controlled via separate buttons on the handle.
So you can either use the toy as a wand for broad-surface, external stimulation or as a penetrative vibrator for G-spot stimulation. The insertable end also has a tapered tip, which makes it ideal for more precise external stimulation. I love that this toy has so many potential uses, and gives you a whole smorgasboard of sensations to try.
As a wand vibrator, the Embrace is fantastic. The head is covered in super-buttery silicone and has a flexible neck, so it moves with your body while maintaining contact with your genitals. The handle is quite broad and has a soft curve which makes it easy to hold the toy in place.
Embrace body wand has three speeds and four patterns, and is very powerful. I enjoy a very strong vibration, but it might be a little intense for someone who prefers more gentle stimulation. You can always muffle the sensation by using the toy through your underwear, or with a washcloth in between the toy and your skin. The vibrations are quite rumbly on the lowest setting, but do get buzzier as you increase the speed. The Embrace has become my go-to toy when I want a fast, satisfying orgasm. It never fails to deliver. It's relatively quiet too, which is a bonus if you have roommates or kids in the house.
6 Reasons to Buy CalExotics Embrace in 2021
The design is versatile as the opposite end can be inserted, doubling as a G-spot vibrator. There are motors on both ends, controllable individually.
Users liked how its head felt soft to the touch.
Being smaller than a full sized wand, several found it usable and handy during intercourse.
It has a rather impressive battery life of 100 minutes on a full charge.
CalExotics Embrace is body-safe.
Its aesthetics has been praised as sleek, elegant, and beautiful.
Feature Overview
My Experience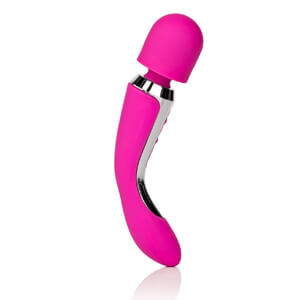 As a penetrative vibrator, the Embrace also performs very well. It has the same three speeds and four patterns as the wand, and the vibrations are very similar. The tip is tapered for easy insertion and the texture of the handle is quite firm, which makes it excellent for g-spot massage. Be sure to read my selection of sex positions for unbelievable G-Spot orgasms.
I do have two small issues with the Embrace when used for penetration. Firstly, there isn't a good place to grip the toy when you're using it in this way. Holding the toy by the wand head is awkward and doesn't give you a lot of control, and if you move your hand down to the neck of the toy it's easy to accidentally press the buttons. Unlike using the wand end, there isn't a lot of room to hold onto and manipulate the toy. Secondly, the handle isn't fully coated in silicone, but has a shiny silver plastic panel. There's a lip where the silicone meets this panel, creating a defined ridge. The ridge is smooth and doesn't create any issues during insertion, but it does make it tricky to clean the toy after use. Lube and body fluids tend to get caught in the lip. And if you don't clean the toy immediately after use, it can be difficult to get it properly clean.
Pros and Cons
The benefit of the vibrating handle is that you could also use this for external stimulation, say of the clitoris or nipples. If you find that the broad surface of the wand isn't your thing, or if you're craving more precise vibration, you can just flip the toy around and use the other end. If you aren't sure what type of vibration you like, or if you like to mix and match, then this is the perfect toy for you.
One disadvantage of a double-ended toy like this is that you can't use both ends at the same time. Of course, you could use another toy or your fingers to provide extra stimulation. But it is a little frustrating that the Embrace does two kinds of stimulation so well, but you have to choose one or the other.
The Features of CalExotics Embrace
Powerful motor at each end;
Ideal for internal & external stimulation;
7 vibration, pulsation & escalation functions;
Waterproof;
USB-rechargeable;
Silicone & ABS plastic with metallic plating;
Phthalate-free.
Size:
Length: 8.75″ (22.25 cm);
Width: 1.75″ (4.5 cm);
Head length: 2.25″ (5.75 cm);
Head width: 1.75″ (4.5 cm).
The Embrace is also waterproof, so you can take it in the shower or tub. Waterproof toys are also a cinch to clean, because you can just dunk them in the sink. As I mentioned earlier, the Embrace is a little difficult to get perfectly clean due to the join between the silicone and the plastic. You might need to make a rule to clean this toy as soon as you're finished using it, or find a dedicated "vibrator toothbrush" to assist in cleaning the handle thoroughly.
The one feature that I wish The Embrace had was a travel lock. It's a rechargeable toy, so you can't simply pop the batteries out before you travel. There's no way to lock the toy to make sure that it doesn't start buzzing away in your luggage. This is a real shame, because it's become my go-to vibrator at the moment. But I hesitate to take it with me when I travel because I don't want an embarrassing buzzing-handbag moment.
Final Thoughts
The CalExotics Embrace Body Wand is pretty affordable for a rechargeable wand vibrator. It only comes in two colours – pink and purple. I would definitely recommend the Embrace for anyone who is looking to buy their first vibrator and aren't sure exactly what they want.
It's fairly inexpensive, is decent quality and gives you lots of different sensations to experiment with. This wand vibrator a versatile toy if you're on a budget and want a single toy that does lots of different things. It's also a fantastic wand vibrator for those who want strong, broad-surface stimulation. Apart from a few small flaws, the CalExotics Embrace body wand is a pretty fantastic toy, and has become one of my current favourites.