Picking the perfect Kegel Balls is quite a sensitive procedure. Since there are lots of different Kegel balls that you can see on the market, it might be hard for you to choose the best one. Picking the perfect Kegel balls will always depend upon your personal preference, health condition, abilities, and many others.
Are you one of those individuals who are looking for the best Kegel balls that are perfect for you? If yes, this is the right place. This post will provide you with the important information that you need to know about the Kegel balls. Also, we are going to review one of the best Kegel balls available on the adult market. Do you want to know more about it? Then keep on reading and enjoy!
The best Kegel ball that we are going to talk about is the Shibari Kegel Balls. But before we dive into the main section of this Shibari Kegel Balls review, let us first know what Kegel balls are.
What are the Kegel Balls?
Kegel balls are also called Ben Wa balls. These are weighted yet small balls. These are being used by females that are being inserted into their vagina. Some people think that these items are a great help for an individual in improving their pelvic floor performance. These items are also being used for vagina strengthening workouts. But further researches that will support these claims are currently being performed.
The Kegel balls look like a marble that has a size that is ranging from 2 inches to 3 inches in diameter. On the market, you will be presented with Kegel balls that are made from metal and other heavyweight materials. On the other hand, there are also Ben Wa balls that are made from lightweight materials, which include plastic materials. You can also notice that each ball contains ball bearings that are made from metal. These are being used to give weight.
What are the Benefits of Using Kegel Balls?
Some females are using Kegel balls as their main equipment in performing Kegel workouts. These types of the workout will help a person to have stronger pelvic floor and vagina muscles. Through these, a person can improve her sexual satisfaction, tighten her vagina, and boost her incontinence.
Some small studies concluded that using Kegel balls can help a female to tighten and strengthen their muscles in the said areas. A study published in 2013 stated that Kegel balls work as effective as the vaginal cones when it comes to treating leaking of urine.
On the other hand, some individuals are using the Kegel Balls to have improved sexual stimulation. There are lots of manufacturers of Kegel balls that are claiming that using this item can enhance their arousal before they have actual vaginal intercourse.
What are the Shibari Kegel Balls?
The Shibari Kegel Balls are ideal to those individuals who are starter or professionals alike. These items are made from high-quality silicone materials. This only means that this item comes with a ridged that works for improving the person's sensation and stimulation. This item will give you a helping hand in toning and exercising the muscles in your pelvic floor. This can be done without experiencing any problems.
Upon opening its package, you can see two double balls and one single ball that will help you to have a comfortable pelvic floor muscles exercise routine. One of the things that we love about this product is that most doctors highly recommend it. It is popular in improving the bladder control of a person. Aside from that, females use this item to have more natural childbirth and recovery. Aside from that, it is also known in toning and strengthening the muscle wall while enhancing the elasticity and entire health of your pelvic.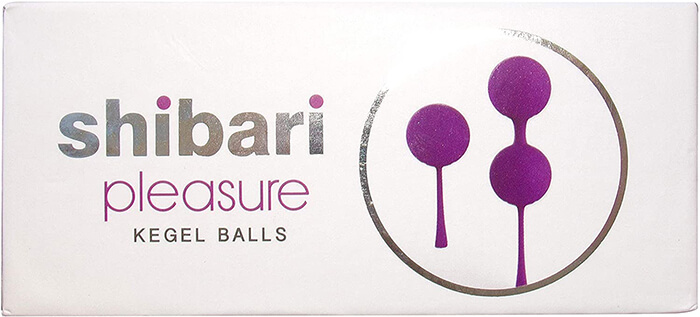 The Shibari Kegel Balls will help a person to have stronger and firmer vaginal muscles while improving your intimate sensations. If you are a starter, it is recommended to use two balls, each weighing 1 lb. If you think that you can carry heavier ones, you can switch these two with another two balls, each weighing 1.3 lb. You can use it with or without using the silicone cord.
If you are a starter whose age is 30 years old and above and already have given birth, it is recommended for you to use a pair of the ball with lighter weight. When you start adopting the weight and developed enough stamina and strength, you can now move on to a quite heavier pair. Heavier balls can help you to improve your exercises. It is also essential for you to utilize a water-based lube while inserting the balls to experience an extreme delight.
Key Features of Shibari Kegel Balls
100 percent waterproof and easy and convenient to insert to your vagina;
It comes with a removable cord that is very soft. This means that you can insert and remove it simple and easily;
It has enough weight that is perfect in toning and strengthening your pelvic floor muscles while you are doing basic exercises;
It comes with high-quality silicone.
Pros and Cons
Before you purchase the Shibari Kegel Balls, you need to know the possible advantages and disadvantages that you can get while using the said item. Below is a list of the pros and cons of the Shibari Kegel Balls. So, if you want to know more about it, then keep on reading.
Advantages
They have the perfect size and weight that is suitable for beginners and experts alike; Both of the weight and size are perfect in adding extra pleasure and toning pelvic floor muscles;
The Shibari Kegel balls can hit the G-spot perfectly;
It comes with attached strings that will make it easier and more convenient for you to insert and remove it;
You can purchase it with a nice-looking case.
Disadvantages
The only drawback that we found out while reading some reviews about this item is that starters might not be able to carry it from the start. But with enough practice and patience, starters can adapt to the weight of this item inside their vagina.
Conclusion
The Shibari Kegel Balls are designed to enhance your sexual arousal. This only means that it is a big help to those who want to experience extreme delight, whether they are solo or with a partner. The doctors highly recommend this item in having a more tone and stronger pelvic floor muscles.
You can use this product to perform some Kegel exercises. If this is your first time using Kegel balls, it is advised by the experts to start with a lightweight pair of balls. If your pelvic floor muscles adjusted in carrying the weight of the balls, you can now switch to a quite heavier pair of balls. You can start performing your Kegel exercises within 15 minutes.
The Shibari Kegel balls are FDA approved and registered. Aside from that, they also use high-quality materials that are safe and effective to use. So, there is nothing for you to worry about having harmful effects while using this item. It is essential for you to not to stick with Kegel balls that use inexpensive materials. So, if you want to tone and strengthen your pelvic floor muscles, then you might consider using the Shibari Kegel Balls.