Using your hands for a jerking session can be boring sometimes. Take a wanking experience to the next and satisfying level with a quality masturbator.
But the number of sex toys for man is hard to narrow down. Don't worry! F1s Developers Kit from LELO has got your back.
But what is LELO F1s Developers Kit? What makes it different from the other brands in the industry? How does it work? In this review LELO F1s Developers Kit, you will know everything about this user-friendly and long-lasting masturbator.
Are you ready? Let's get started!
What is LELO F1s Developers Kit?
Are you looking for one of the most cutting-edge male sex toys on the market? Your long search is finally over. The LELO F1s Developer Kit should be the number one brand in your buying list.
Measuring 2.8 inches in circumference and 5.5 inches in length, F1s Developer Kit is a compact and lightweight sex toy that stimulates the sensitive nerves in your penis.
It allows you to customize your wanking experience while ensuring a deep and pleasurable sensation.

Top Features
LELO F1s Developer Kit stands out among the other brands. It is a feature-packed, different, and sought-after masturbator for men of any size.
Some of its features are highlighted below:
360-Degree Stimulation – There are many sex toys. But most options don't stimulate the sensitive nerves in the penis. Worry no more! This product is an exception. Packed with 360-degree stimulation, this brand makes your buddy more receptive and sensitive than ever.
Dual Internal Motors – Equipped with a set of dual internal motors, this masturbator produces intense and addicting sensations. As you pull up and down the toy, the pleasure will be satisfying.
Innovative SenSonic Technology – F1s Developer Kit uses sonic waves from the dual internal motors through a top-notch SenSonic technology. While it helps you cum hard, this state-of-the-art technology extends the toy's longevity.
Performance Sensors – Tailored with sensors, F1s Developer Kit reads all cues your body sends. This automatically monitors, manages, and controls the rhythm that best suits your unique sex needs. There are 10 super-sensitive sensors overall.
Unique Curved Groves – The sleeve has curved grooves. How does it work? Well, it runs through its maximum length for a new wanking activity.
Cruise Control Feature – How to enjoy the ride on automatic mode? This cruise control feature is the answer to your problem.
Materials – Tired of a low-quality masturbator? If yes, LELO F1s Developer is available with a top-grade silicone sleeve, aluminum alloy body, and other advanced components. It is proven to have great and convenient longevity.
Rechargeable and Bluetooth-Friendly – How long does the battery last? Well, you can use it for around 2.5 hours of continuous jerking session. It is rechargeable and Bluetooth-ready.
Advanced Developer Software – After a successful purchase of the F1s Developer Kit, you can access and use a free and reliable application. It works with iOS and Android devices, too. It is also compatible with other LELO toys.
What's in the Package?
Yes, LELO F1s Developer Kit does not come with fancy packaging. It is quite discreet and simple. But the package is available with a starter guide, a USB charging cable, a user manual, and one LELO F1s Red SenSonic Trainer model.
That's not all! The package consists of a satin storage pouch, a bottle of cleaning spray, a pair of leather gloves, a warranty registration card, and a "Do Not Disturb" sign.
Before your playtime, don't forget to lube up and enjoy wanking.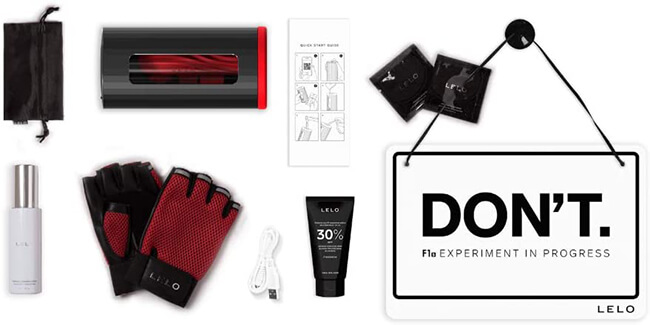 How Does it Really Work?
Upon delivery, unbox the package and charge the F1s Developer Kit until the battery is full. The charging time usually lasts for 3 hours, while the battery can run for almost 2.5 hours every day.
It works by using sensitive sensors with dual internal motors. Its sonic waves are proven, tested, and effective. Once you turn it on, the stimulation is intense and orgasmic.
The sex toy also monitors, controls, and manages the rhythm and motion. While many folks just consider it a toy, the manufacturer calls the product a work of art.
The masturbator has a set of unique curved grooves and cruise control features. This allows you to sit back while LELO F1s gets every wanking moment done with a moaning factor.
Is it Comfortable to Use?
Of course, yes. Thanks to its 360-degree SenSonic waves. As it strokes your buddy, it feels so smooth, comfy, and pain-free.
F1s Developer Kit comes with ridges that caress your erect penis. Its sensors are precise and effective. Its little window or cruise control function allows you to watch all the action thru, unleashing the wild beast within you.
Pros – What Would You Like?
It is Made of the Highest Quality and the Finest Materials – It can withstand the test of time. Its durability is long-lasting and reliable, enabling every user to save some cash.
Well-Designed – F1s Developer Kit comes with stunning red accents on a black aluminum surface. It has a high tech, stylish, and aesthetically pleasing look.
Full of Advanced Features – It is an ultimate sex toy for every man out there. Plus, it is one of the go-to options for beginners and pros.
It is 100% Waterproof – Yes, you read it right. LELO F1s Developer Kit is waterproof. When you're searching for a masturbator that can withstand a high level of moisture, you have come to the right place.
A Flexible Brand You Shouldn't Miss – When using the F1s Developer Kit, there are hands-free and manual operations. To adjust the setting, the cruise control comes handy. For more information, there's a fun-to-read and comprehensive starter guide to use.
Cons – Missing Features
It is Expensive – For some customers, the price is a bit costly. Good news! The excellent features, a high level of comfort, and top convenience make F1s Developer Kit a worthwhile and perfect investment for everyone. It is sturdy and long-lasting, too.
It Only Has 4.5 Inch Insertable Length – It is not an excellent option for most men. If you have a bigger and longer buddy, look for the other brands that suit your size. Careful and thorough research should not be overlooked.
It Takes Time to Recharge the Battery – 2 hours of charging time is quite long. So, recharge the masturbator before playtime. You can also use the LELO F1s Developer Kit even if it's not full yet.
The USB Cable is Short – The trick here is to charge the toy near the socket or buy a long/compatible USB cable online.
Who is it For?
F1s Developer Kit is ideal for any man who wants to level up a jerking activity. Whether your current toy is inefficient and of low quality, this toy from LELO is an incredible alternative.
Final Verdict
F1s Developer Kit has been creating a buzz because of its durability and functionality. It is sturdy because it is equipped with quality materials. When it comes to the design, the masturbator is stylish and stunning. The ease of use is superb, too. There's no prior experience and complicated operation required. It can spice up your sex drive with a click of a button. The sensors and other features are extraordinary. The sensation is fulfilling and can satisfy your sexual fantasies. Although it is expensive, its SenSonic technology makes the toy worth the price. Add it to the collection today and see how it works!