I have long enjoyed all the pleasure my Womanizers have given me. Even my boyfriend has experienced the sensations of air pleasure, and has reported having enjoyed the experience. I cannot even word my excitement when I found out the folks behind the Womanizer had now created a toy – ArcWave Ion – that can give penis-owning folks orgasms through pleasure air technology!
About The Product
The Ion is the first (of many, crosses fingers) toy to be released from the new ArcWave brand. ArcWave is owned by WowTech, the folks behind We-Vibe and Womanizer. So really it was only a matter of time before the sex toy creator brains got together and created a toy that focuses on air stimulation pleasure for penises!
Everything about the ArcWave Ion oozes utter sophisticated luxury – start to finish, box to the toy. The whole experience makes you feel like you have got your mitts on something precious and for a toy that retails just under $200 (in US) in my opinion, it should! I want the whole damn experience and I got it!
Where To Buy
I buy all my sex toys from Amazon. They have low prices, fast delivery to the US, and excellent customer support.
Who Is This For?
Arcwave Ion is the perfect masturbator penis for men looking for real-life sensations and high-quality materials. It replicates the feeling of real sex better than any other product on the market.
Video Tutorial and Feature Overview
The Packaging
The ArcWave, itself, arrives beside a grey ABS plastic case that not only houses it but also charges it and has a built-in drying rack. The case is extremely inconspicuous – no one would have a clue what was inside it if you had it sat on your bedside table.
"Ion's storage base features a DryTech stick which helps the drying process. Users place DryTech packs which contain silica capsules inside the DryTech stick. After use, users simply clean Ion and place it on the storage base. Not only does it automatically start charging, but the DryTech stick removes any last water droplets…"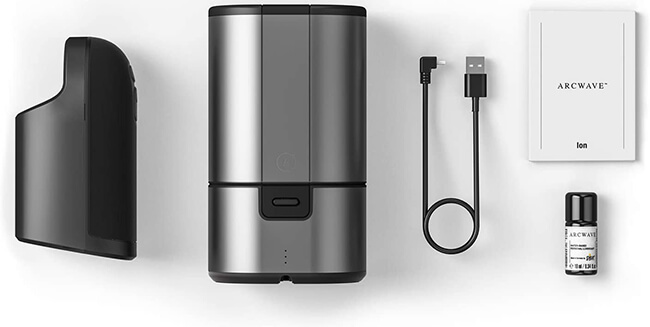 That is super awesome and on top of that the silicone used to make the sleeve part of the Ion is made with cleantech silicone. It's meaning it repels fluids so nothing gets embedded in it. The silicone is super squishy and feels ace in use.
Oh, and the toy twists apart so you can 100% scrub your stroker and not have to worry about germs or lube hiding anywhere. They really have thought of everything!
Specifications
Essential Info:
Allergens: Latex-Free , Phthalate-Free;
Waterproof: Submersible;
Power Type: Rechargeable;
Run Time: 65 minutes;
Circumference: 10 inches;
Insertable Length: 3.5 inches;
Length: 6 inches;
Flexibility: Flexible;
Material: Silicone.
The Look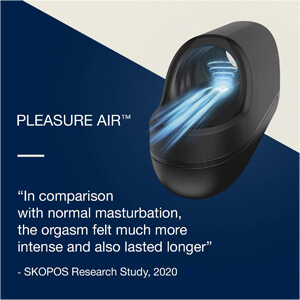 TheArcWave Ion also has the smart silence. This technology is groundbreaking in sex toys. Because it means you can stop when you want by removing the toy from touching flesh, it starts back exactly where you stopped and of course, sneaky wanks!! You will see a speaker style button beside the +/- buttons and this button is responsible for the smart silence function. When the light is powered on, the smart silence function is active.
The Ion is powered on via the + button and you power off via the – button. These buttons also allow you to increase or decrease the strength of the suction function.
My Experience
The squishy silicone allowed me, the non-penis owner, to feel my boyfriend easily through the toy as I wanked him off. I was able to use my fingers exactly where I wanted them and the silicone allowed me to pinpoint the pressure. I don't think I have ever used a sex toy on him where I have felt his head against my hand as if there were just us. It is epic!
I will say it is worth having lube close to hand and lash it on, frequently. The air pleasure function has a tendency to dry out the toy. And the silicone can start to feel draggy and chaffy when you don't reapply it! I know the things my boyfriend's cock has to experience so I can tell you lot about it!
Final Thoughts
The Arcwave Ion is loud and honestly, there really is no way I can review it without mentioning the sound. My boyfriend still uses it and puts up with the noise because the orgasms he has with the Ion quite literally blow his mind! And of course, I sit there either jacking him off or watching him wank wishing I too had a penis, so I could experience the jizz fountain explosion I have witnessed.