In last years would spend hours inside the Japan sex shops, and I got hooked on all the quirky sex toys, especially a realistic masturbator called Onahole. My initial interest became an obsession, and today, I have tried over 30 different Onaholes from all the top manufacturers. I thought I tried them all, but NOTHING could prepare me for what I was about to experience with Meiki no Syoumei 05 Zhang Xiao Yu.
If you're thinking about buying an Onahole, don't do anything until you've read my review on the Meiki no Syoumei 05 Zhang Xiao Yu (I'll just call it the "ZXY Onahole" from now on)!
About The Product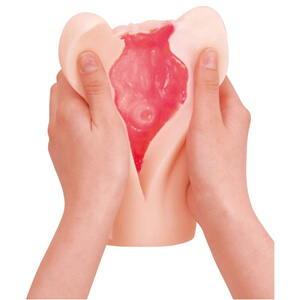 NPG is a Japanese brand and manufacturer famous for crafting some of the world's best Onaholes – lifelike masturbation aids that replicate the holes of beautiful JAV stars.
Zhang Xiao Yu (XZY) is a Chinese celebrity (aka nude model) who I don't know much about. All I know is that she's super cute, had the most searches on the Chinese search engine Baidu (China's Google) 3 years in a row, and has an Onahole created in her likeness.
Pros
Feels incredibly realistic;
Looks incredibly realistic;
High-quality materials;
Quality lube included;
Quiet.
Cons
Slippery to handle when wet;
It can become overly wobbly;
Cleaning is tricky;
You may never leave the house.
The Packaging
The box itself was honestly a bit of a turn-on. After visiting the sex stores in Japan, most of the male masturbation toy packaging has that "retro-porn" vibe going on. This kind of fits that bill, but something about XZY's image on the front made me believe that this goddess wanted me in her Onahole right away.
Inside the box, there's a standard plastic insert, and inside that is a sealed ziplock bag housing the XZY Onahole, a small bottle of lube, and an instruction leaflet (Japanese language only).
The Nuru-style lube provided was superb. I love this extra slimy, water-based lube, and it's often expensive, so I was chuffed to get such a generous supply.
Where To Buy
I buy all my sex toys from Amazon. They have low prices, fast delivery to the US, and excellent customer support.
Who Is This For?
Meiki no Syoumei 05 Zhang Xiao Yu is the perfect Onahole for men looking for real-life vaginal sensations and high-quality materials. It replicates the feeling of real sex better than any other Onahole product I've used.
Who Is This Not For?
As the price tag is at the premium end, someone looking for a cheaper option may want to find a lower-priced version.
Video Review
Want to make sure you're getting the most out of your N.P.G No Syoumei 005 Zhang Xiao Yu Japanese Masturbator? Check out this video to find out how to enjoy the incredible features of the top male japanese masturbator of 2021.
The Materials
Material: Meiki ZXY is made from TPE – Thermoplastic Elastomer. TPE is hypoallergenic, phthalate-free, supple, and jelly-like;
Dual-layer construction: A softer skin-like outer layer with firmer interior lining gives a natural feeling inside and out;
Weight:1.76 lbs;
Length: 17 cm;
Size: 6.5" x 4" x 3.75";
Manufacturer : N.P.G.
The Look
The Zhang Xiao Yu Onahole is essentially a life-sized vagina with a smaller scale pubis, lower torso, and butt.
The pussy looks and feels realistic, more than any other Onahole I have owned. The whole package was also a little bigger than I expected, which was a plus.
Meiki no Syoumei 05 Exterior
The exterior is soft and sexy, and is comfortable to handle. Her cute little bum shakes a little when you penetrate her. It really feels like the skin of a young woman: soft, supple, and smooth.
The material is flexible, and vibrates upon penetration;
The middle part bounces back during intercourse. The closed-off back creates a strong vacuum;
The bends in the vaginal tunnel simulate the body of a woman that is excited;
The big bulge at the start creates added pressure on the penis, and thereby added pleasure;
This is followed by a G-spot that stimulates the tip of the penis in another way;
The surface of the tunnel is equipped with a stimulating structure. The folds, studs, and ridges cause unprecedented pleasures.
The Feel
The first thing I noticed was the weight – this toy weighs a little under 2 lbs which added to the life-like feel. When I picked it up and saw the quality, I then understood the premium price tag, along with the fact that it's an imported product.
The Zhang Xiao Yu Onahole is pretty thick to hold. The interior walls and lips are a firmer and stickier material than the extra soft outer, which works well to give the canal wall a nice texture.
A double-lip structure essentially replicates the inner and outer labia, keeping the opening tight and keeping the lube from escaping during use. When I folded back the lip, an impressive feature was the inside of the labia gets that shiny, tight-skin look that reminded me of the real thing. The attention to detail in areas like this is what sets her apart from other products.
The texture of the interior surprised me. It's a complex array of ridges and small bumps that feels quite firm and rough to the touch. However, once you insert your cock, it feels softer than expected and replicates the feeling of a real vagina with incredible accuracy. Whoever designed the interior of this should be given a medal!
My Experience
The lube provided was great, the only issue being that the bottle isn't squeezable, so it was a  challenge to get the gel out without making a bit of a mess. It also made it hard to squeeze directly inside the vaginal opening, but I ended up using my fingers to lube up inside, and that worked fine.
The inside of the vagina entrance is where I think this toy excels – it feels as close to the real thing as I've experienced. When entering my fingers, the first thing I noticed was the firm G Spot, which perhaps runs a little longer and further back than in real life.
Once the Zhang Xiao Yu Onahole was well lubricated and I was hard, it was business time.
Cleaning and Storing
It only took me a few minutes to clean the Zhang Xiao Yu Onahole under running water, although I took an extra minute or two to dry the inside. It's a pretty long and tight hole, so a bit of care is needed to dry it thoroughly.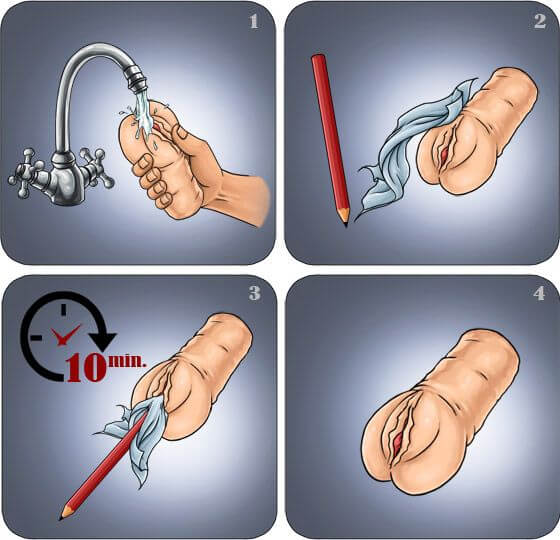 There's a special dry stick available as an up-sell. I think this is worth purchasing, just to guarantee that the inside stays dry, clean, and hygienic for the product's life. You could also probably find something around the home that would do the same job.
Accessories
There are USB-powered onahole warmers available as an upsell. Still, I'm a man with simple needs and was happy enough with feel at room temperature to not bother with the additional purchase.
Final Thoughts
After my first try, I found myself thinking about Zhang Xiao Yu and her beautiful Onahole for days afterward and couldn't wait to get back home for another shot. When I did, I believe it had softened a little and felt even better.
The Meiki no Syoumei 05 Zhang Xiao Yu Onahole will be on high rotation in my top drawer for the foreseeable future.
Honestly, it's the best Onahole I've used for a long shot!