There's no reason why you can't masturbate in style. You should be able to gain pleasure with every stroke, and this is where the Tracy's Dog brand can really enhance your sex life. A discreet stroker is just what you need in your life.
Why bother with your hand when you can't have the real thing? There are plenty of toys out there that can be used by men.
The Tracy's Dog Male Masturbator Cup is texturized to become the ultimate stroker, and you'll soon discover why.
What the Stroker Offers
The Tracy's Dog stroker has a few unique features that you're sure to love:
Shaped like a real vagina;
Texturized interior;
Soft, body-safe TPE feels like real skin.
With each and every stroke, you will feel as though you're diving into the pleasurable folds of a female. The deep cup will allow you to get several inches of penetrated pleasure. Plus, the TPE material will feel like you're inside of a woman instead of a plastic cup.
Perhaps the best part is that the textures mimic the channels of a woman's vagina. As you penetrate deeper and deeper, it will grab and stimulate you.
Clean-up is a breeze, too. After all, everything is detachable. With a bit of soap and water, you can have it cleaned up so that it's ready for your next time.
Sexual Fun on the Go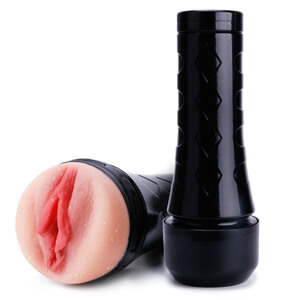 Too many sex toys are loud. They're also impossible to take with you on the go. Whether you want to have some fun at a truck stop, under your desk at work, or even in the comfort of your home, you can embrace the discreet possibilities offered by Tracy's Dog male masturbator.
The entire unit looks like a flashlight with a lid. When you remove the lid, you are greeted with the fleshy lips of a vulva.
If someone were to see the unit with the lid on it, they would assume that it is a flashlight. This allows you to place it into a suitcase, a backpack, or a briefcase without anyone questioning you.
It's only when the lid comes off that it becomes clear that it most certainly is not a flashlight. Instead, it's a masturbatory tool unlike anything else.
There are a few basic components to the unit: Fleshy insides, the sleeve, the lid, and the end cap. You'll only need to remove everything when you're ready to wash it.
Additionally, there's a unique feature. A hole at the bottom of the unit, when plugged with a finger, offers a vacuum seal. By doing this when you are inside, it offers a sucking sensation. It can make it easier to maintain an erection as well as to quickly reach climax.
What to Expect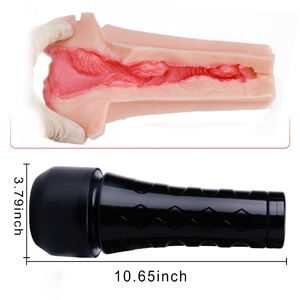 Not everyone has used a life-like stroker before. This is when it's important to understand all of the benefits of a male masturbator.
The unit measures almost 11 inches in length. The majority of this is what you're able to penetrate. And, the deeper you go, the tighter it gets. It can offer you all of the same sensations you get when you're in the company of a female.
It's also important to note that the brand does offer other masturbators that allow you to get other sensations. This includes the mouth as well as the anus. These are not included though you can purchase them separately to add variety to your masturbation sessions.
What Customers Think
Many reviewers have found that it is as close to the real thing as possible. The lid offers a tight seal so that it won't fall off, creating an embarrassing moment.
Water-based lubricants are highly recommended. This will make it easier to slide in and out so that thrusts don't take any extra effort. It will also prevent chafing. Using anything other than water-based lube can cause the soft fleshy material to break down prematurely, so it's highly discouraged.
Reviewers have also found that by heating up the lube, it can head up the entire unit. This helps to make the stroker a lot more lifelike.
One of the final comments that frequent the online reviews talk about is that the end cap is easily removed. This simplifies clean-up because the top and bottom are removable. Water can run down the middle to rinse it out fully.
Why Tracy's Dog Male Masturbator is Worth the Money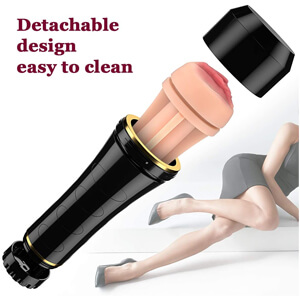 While there are a lot of brands of masturbator cups, none stand up quite the same as this one. The reviews are high, which proves that it is a quality product (#1 Best Seller in Male Masturbators on Amazon, 6,830 ratings). Additionally, many claim that it is textured so realistically that if they close their eyes, it feels just like the real thing.
The easy-to-clean unit is designed to be detached quickly. With a bit of soap and warm water, it will be cleaned and ready to go (just like Meiki no Syoumei 05). It ensures that the toy remains hygienic regardless of how frequently it is used. There's no condom needed. A bit of water-based lube and you're ready to go.
Final Thoughts
Every man should have a male masturbator that they love. Tracy's Dog is affordable, highly rated, and offers an experience that is truly memorable. Every feature is designed to enhance the sensations when it is in use. Plus, everyone, regardless of length and girth, should be able to enjoy all that the masturbator has to offer thanks to the incredible design.
The product is delivered in discreet packaging, too. Order one on Amazon today, and consider ordering all of the other designs for additional sensations as well.