The Lovense Diamo is the very first wearable penis-orientated toy from Lovense. It is a Bluetooth-compatible cock ring, so like other Lovense toys it too can be app-controlled.
The overall shape of the Lovense Diamo reminded me of the Verge and as a result, I wondered if we would have issues getting it on. The toy as mentioned is controlled via the Lovense app (For IOS or Android), but it can also be controlled via a one-button interface found on the side of the toy near the magnetic charging point. You also need to press this button so the toy can find the app and sync before use.
Specifications
Essential Info
Allergens: Phthalate-Free;
Waterproof: Submersible;
Cock Ring Style: Single Ring , Vibrating.
Power and Speed
Power Type: Rechargeable;
Run Time: 65 minutes;
Vibration speed: Speeds and patterns.
How it Feels
What Inside
Inside the box, you get your sex toy, two different sets of instructions, a storage bag, and a USB charging cable. The silicone used to make the Diamo is quite firm, and overall the toy has very little stretch or give to it and the main vibrating body is quite hard without any squish. The silicone feels draggy when I rub my fingers across it and I just know it's going to be that kinda that needs lots of lube.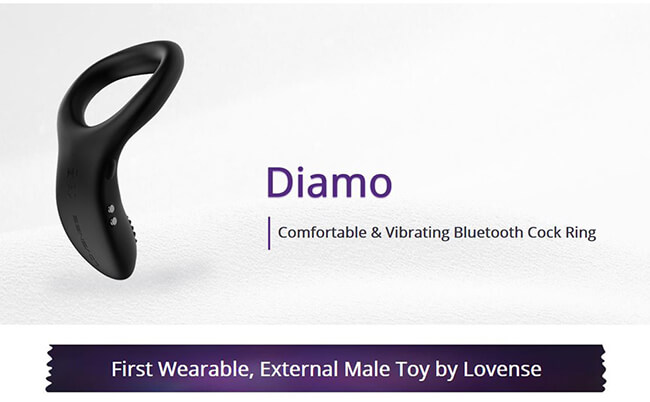 As mentioned in other Lovense reviews, I will not sign up and agree to Lovense's required permissions for app use. If you want to use the long-distance use of the toy, you will have to sign up though. The app from an offline perspective is extremely responsive – in fact, I think the most responsive app I have ever used throughout the years. Here you can control the vibrations the wearer experiences from full power to powering it off and on spontaneously, it is rather fun to have such power at your fingertips!
So how did we get on with the Lovense Diamo?
Well not great to be honest. For coupled use, we failed to find a position that was in any way comfortable for either of us. It dug into me when I straddled him and it hurt us both in missionary. Doggy it slightly worked but again, that firm silicone just felt like I was being poked, but not in a nice way :(.
However, the biggest issue we had was getting in bloody on!! Lash on allllll the water-based lube as it's needed and it was at this point I stepped away from the cock and the cock ring and let my boyfriend endure the delicate process of inserting his balls and eventually tugging at his cock, while I prayed to the gods' nothing would get damaged in the process Ok, ok – I am probably overdramatizing that bit but honestly, I did pull some eeek and ooooh faces while I watched him struggle.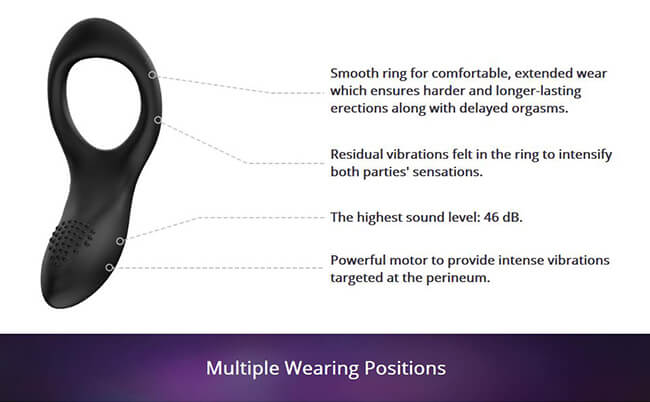 And yes while I said all the lube above, you actually need to find the correct balance because too much it will swing around the base of your cock. Like a game of ring toss and too little is like getting a free waxing session so it is all about balance!
The vibrations from the Diamo are actually quite decent when the toy is on lower to medium speeds and my boyfriend actually used to on me like a fingerstyle vibe, however again in use, it feels like he was using a toy made from abs plastic rather than silicone.