In keeping with my theme of 2021, we have Svakom now checked off my 'brands to try' list and added it to my modern sex toy box. While they certainly have some interesting designs, I stuck with a more traditional toy to start with: The Svakom Iris, a lovely pink bulb-shaped vibrator that gives you thoughts of spring when you look at it.
SVAKOM Iris Stats
The Svakom Iris is a clitoral and g-spot vibrator, with a bulb head and a narrow body. The vibrations all culminated in the bulb. It is made of a body-safe silicone all along the body, though there is some plastic where the magnetic charging port sits at the end of the body. The bulbed end has a bit of texture to it with circle ridges, and they can be used for extra stimulation. The neck of the toy is flexible and helps with targeted g-spot stimulation.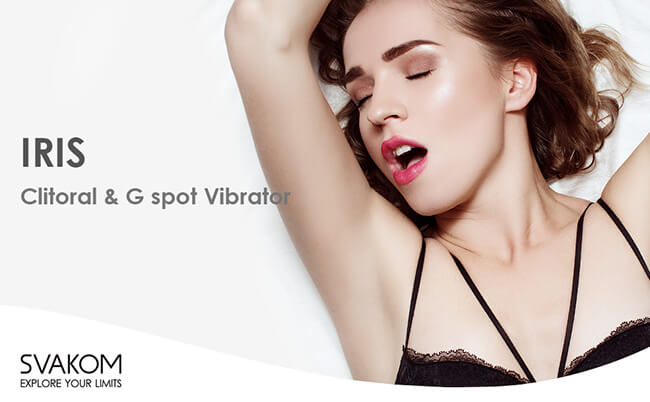 To use the Iris, there is one singular button. To turn it on/off, you hold down the button for 3 seconds. Then pressing the button once allows you to move through intensity of your toy. But if you double click the button, you get to choose between 5 different vibration modes. Each of those vibration modes also allows you to switch the intensity as well. Which gives you a total of 25 different frequencies to play with. The charge takes about 1.5 hours, but it gives you 2 hours of play time. It is also waterproof, so it is easy to use in the tub or shower, as well as makes it easy to clean with soap and water.
SVAKOM Iris features:
Measures 180 mm (7.09″) long with a 30 mm (1.18″) diameter at widest point;
Weighs 104 grams;
Crafted from eco-friendly, body-safe silicone and ABS plastic; 
Equipped with a magnetic charging port; charge for 1.5 hours for 2 hours of run time; 
Contains one powerful internal motor with a simplistic, one-button controller on the base; 
Offers 5 vibration modes and 5 intensity levels intensity settings for each to deliver 25 different frequencies;
Flexible head allows for targeted stimulation of the G-spot; 
Waterproof design allows for shower or bath play; 
Whisper-quiet operation; 
Easy to clean with mild soap and water; 
Use with water-based lube only; 
Gorgeous pink color.
Video Tutorial
Want to make sure you're getting the most out of your G Spot vibrator SVAKOM Iris? Check out this video to find out how to enjoy the incredible features of the top clitoral stimulation for women of 2021. Iris introduces a unique design with 3 overlapping oval ring texture on the cute spoon shaped head. This focus on stimulating the most sensitive spots and bring you an extremely exciting experience.
So What Did I Think?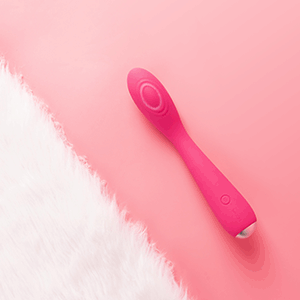 The Iris is a very beginner-friendly sex toy, both in shape and intensity of vibrations. The neck has firm bendability makes this a lovely toy for g-spot stimulation. Though, for me, I found it to be just slightly too flexible to get the kind of firm stimulation I need in that area. However, the Iris was a lovely toy to warm up with, teasing and stimulating the area in preparation. I found that my orgasm with the toy I use in last mounth (LUXELUV Coco Passionate) came to a lot easier.
I much preferred using the Iris as a clitoral stimulation toy. Today i found the thin oval bulb shape was able to sit comfortably against my clit like a small wand. The vibrations were delightfully rumbly and deep. Though I will say, I was unable to really feel the small ridges meant for texture. I tend to enjoy a distinct texture over minimal texture in the toys I enjoy. So that was likely the cause for me.
The biggest issue that I had with the Iris was the controls. Normally I adore a one-button system. Click and go is perfect in the world of sex toys. It was the double-clicking to get through the various patterns that got me. You have to click fairly quickly, which is just not something I am thinking about in the middle of masturbation. So it really goes unused during conventional play for me. If I was using it on a partner, it certainly could come in handy. But as a solo toy, I would have much preferred a second button just for ease of use.
Final Thoughts
If you are a beginner at sex toys, the Svakom Iris is a great dual-purpose toy to start out with. Being able to switch between clitoral and g-spot stimulation can help you figure out what your body enjoys best. Or if you want a toy for warming up, this is also lovely to have in your sex toy box of 2021.
You can grab your own Svakom Iris from Amazon for only $48.99.