A person with a vagina feels many sensations during sex or personal pleasure. All these sensations make you feel good, but not all will put you on cloud nine. One that does the trick, though, is knowing how to squirt.
You have probably seen it in pornos. Or maybe your partner told you how unique her experience was. And now you're probably Googling information about squirting. The good news is most women can do it with a little bit of practice.
If squirting is one of your sexual cravings, you have cum to the right place. Grab your partner and/or dildos as we set out to improve our sex lives. This sex educator is here to satisfy your needs!
What Is Squirting?
Of course, before "going deep," we have to understand what it actually means to squirt. Squirting (AKA female ejaculation) releases fluids from the lady parts through clitoral and G-spot stimulation. The fluid comes out from the skene's gland (AKA the female prostate), a gland found at the lower end of the urethra. It can either be a gush or a spurt meaning it could be a lot or a little.
How Does Squirting Feel?
Female Redditors describe it as relieving and relaxing. In a nutshell, when you release, you feel good, and it feels like the butterflies want to escape your tummy through your belly button. From the moments leading up to release, the pleasure has begun.
Squirting has been described in different ways by different people. More often than not, the feeling is described positively.
Can Every Female Ejaculate?
A study conducted by the international society for sexual Medicine shows that only about 10-50 percent of women experience ejaculation involuntarily. Therefore it might be a rarity, but it should be possible especially given the number of porn stars making it rain.
You're here because you're interested in this topic, and I believe because of this interest, you'll have the catalyst to make it happen.
Is Squirting Pee?
No, it's not. The fluid released while squirting is a combination of Urea, Uric acid, and creatinine.
Many women have not experienced female ejaculation because it feels similar to peeing, making them afraid they might pee on their partners, so they hold it back.
How To Make Yourself Ejaculate
Nobody knows your body better than you. You know all the right places to touch, all the key areas to explore in your beautiful body, and can gauge all the reactions quickly.
Therefore, making yourself ejaculate might come a bit easier than with partnered sex. Here are some steps you can try on your own.
Empty your bladder

An empty bladder will assure you that just squirting fluid will leave your body, not pee.

Set the stage and mood

Put some new sheets on the bed as the case may be. Turn on low lights, light a scented candle, play your favorite sensual songs.

Relax your mind

Take off your clothes, take a deep breath, relax your mind, and lay on your back: Make sure you are relaxed; think of it as a journey where you want to reach a destination with a gift at the end. Stay in a missionary sex position; for starters, making it easier to reach the G-spot, located around the top of the vagina close to the belly button.

Use your Fingers

Finger motion is essential during female sexuality arousal. Start by playing with your clitoris. Get it aroused, rub it, flick it, etc. Just show it, love. Once it gets aroused, it begins to respond by swelling because the clitoris possesses erectile tissue. Just like a penis, the clitoris can be erect. While playing with your clitoris, stick two fingers into your vagina and move it around the top of your vaginal wall. Move the two fingers like you are call and use your thumb to stimulate the clitoris simultaneously. By now, you are already wet and feeling all the tingles.

Use sex toys

If you haven't already had your squirting orgasm, you can involve your toys. Use a dildo for the same effect as a penis. Let the dildo go deep to the G-spot area while you still play with your clit. You can use a vibrator as well.

Switch positions

Do not be scared to change your style to spice things up. Change from the missionary position to the doggy position. If you are flexible enough, you would have easy access to the G-spot from that position.

Feel orgasm

If you follow these steps carefully, you may have your fountain flowing and already feel relaxed by now.

Clean up

Before you consider taking a nice little nap, be sure to clear out any stains and take a shower, then relax.
How To Make Your Partner Squirt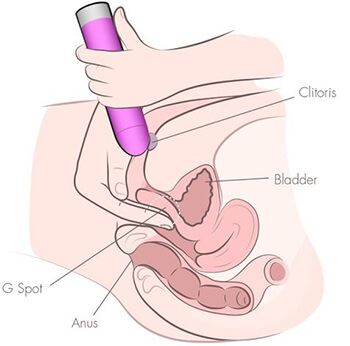 Many people prefer partnered sex in contrast to riding solo. Sadly, not all partners know the right buttons to push to make a female ejaculate.
If you want your partner to help you achieve a squirting orgasm, they need to know certain things about your body, especially the vagina.
The vagina has a mind of its own, and once there is sexual stimulation, the vaginal muscles begin to react by either swelling or pushing to release fluids from certain glands.
If you want to make your partner peak, try to follow these steps.
Put her in the mood: After she empties her bladder, lay her down, make her relax. Let her know you are doing this for her; to please her and satisfy her.
Take off her clothes: You definitely would not want to get the whole place messy, so it is advisable to make sure your lady takes her clothes off.
Emphasize foreplay: Many people (especially men) need to pay more attention to foreplay. Use three fingers, one on the clit and two inside the pussy, as you try to locate the G-spot, which is a few inches inside towards the vaginal roof. While you do this, be sure to use your mouth to eat her out while pleasing her other erogenous zones. This way, she is receiving pleasure from all angles at the same time!
Try Toys: Using toys during sex will allow you to reach lady parts you may not ordinarily get to. These toys have curves that you can use to your advantage. At this point, you can bet she is already grabbing you tight and screaming your name.
Have sex with her: If she hasn't already had her orgasm, you can now whip out your cock or strap on your dildo as the case may be. Put her in a doggy or missionary position while still stimulating other parts of the pussy.
Best Sex Positions To Make You Squirt
To have good sex, you probably tried out the best of the best sex positions, and the same goes for squirt during sex. Positions that give better access to the G-spot are the best. Once you stimulate your girlfriend's G-spot, she is more likely to ejaculate.
Doggy style is one of the best because it allows the penis to hit your G-spot well. The arc on your back in this position creates the perfect angle for your partner.
Another good position is the crab position. In this position, you stay on top of your partner while leaning backward, allowing the penis to hit the G-spot. It also keeps you in control, allowing you to reposition yourself till the experience feels right.
There is another excellent position some have termed the G-spot position. In this position, hip elevation is the key.
Best Sex Toys To Make You Squirt
Adult toys are essential when it comes to sex. And today, you can find many types of products, but my favorites are still the classic dildo and vibrator. 
Volume Of Squirt Liquid
A 2013 study with 320 participants estimates that when women ejaculate, they release between 0.3 milliliters of liquid to 150 milliliters.
Exercise For Pelvic Floor Muscles
Here are just a few parts of the female reproductive organ you should know in your quest to ejaculate:
Front Vaginal wall;
G spot;
Clitoris;
Pelvic Floor;
Skene's glands;
Vaginal canal;
Urethral sponge.
The Pelvic floor muscles need to stay fit for the general well-being of your lady parts. Your sex life will improve overall and if you choose to bear children, keeping the pelvic area fit helps ease childbirth.
Frequently Asked Questions (FAQs)
What is female ejaculation?
Female ejaculation , also known as She-jaculation," "squirting" and "gushing" is an occurrence in which fluid is expelled from out of the vulva or vagina around the time of orgasm. Read my full post about it here.
What is female ejaculate made of?
The fluid that is excreted during female ejaculation is different to the secretions that occur during arousal. In recent years, the medical establishment has acknowledged the existence of the female prostate, and that the fluid emitted during orgasm is biochemically comparable to male prostatic plasma (minus the sperm). The fluid has been found to contain high levels of prostate specific antigen (PSA), a chemical secreted by the prostate gland and found in semen, as well as prostatic acidic phosphatase (PAP), prostate specific acid phosphatase (PSAP) and glucose.
Is female ejaculation pee?
No. No. Fucking No. There is a misconception that female ejaculation or squirting is "coital incontinence," and therefore the liquid emitted is pee. Regardless of any recount you read, I can unequivocally confirm that this is not the case. Having gushed for several years on a regular basis, I know first hand that the fluid excreted is different to urine. I've had a lengthy rant about this.
What colour is female ejaculate?
Female ejaculation varies from a clear liquid to a whitish fluid, or something that looks like watered down milk.
Where does female ejaculate come from?
Female ejaculation involves the release of a clear or whitish fluid around the time of climax, and is said to be emitted from the Skene's or paraurethral glands. The Skene's Glands are 2 paraurethral glands located at the bottom of the urethra. Some studies also claim that the paraurethral gland itself is distributed over the entire length of the female urethra. Either way, the Skene's glands and urethra are located very close together.
Is squirting normal?
Female ejaculation and squirting is absolutely normal. Women have been squirting for centuries, and it has been documented as early as Ancient Roman times. I'm incensed by anyone – psychologist, medical 'professional' scientist, blogger or otherwise – claiming it to be abnormal, or to suggest the fluid is urine. This is a destructive way of describing the fantastic way some women's bodies respond to sexual pleasure.
What does it feel like to squirt?
For me, she-jaculating feels like an awesome release. It's super pleasurable and liberating. I often feel really emotional and a huge sense of relief. It's said that the pelvic nerve is the main nerve that controls female ejaculation, which also stimulates emotions.
Final Words
If you were practicing some steps while reading and… who am I kidding if you were doing that, you probably wouldn't be here because you would be cleaning up after release. If you weren't saving the tips for later, I wish you the best in your already conquered quest for a squirt because it will be a blast.