We love Tenga's new releases in this house and this time we have the utter joy of testing out Tenga's brand new Aero – an adjustable suction masturbator, which already has won a Red Dot award, so obviously, expectations are even higher before its arrival.
TENGA has been awarded the Red Dot: Best of the Best [2021] for their product series TENGA GEO in the Red Dot Product Design Awards. The TENGA GEO is the first ever sex toy to receive this accolade in the Red Dot Design Awards' 65 year history. There are two different styles to choose from in the new Tenga Aero range – silver ring and cobalt ring.
The silver ring focuses on pleasure from "pleasure from spiraling surroundings" while the cobalt ring gives "pleasure from suctioning surfaces". Reading those descriptions does make me wonder if my boyfriend would have preferred the suction version as that is usually his thing.
As always, the toy comes with a sachet of Tenga's own hole lotion and an instruction manual.
Aesthetic of the Tenga Aero
The whole aesthetic of the Tenga Aero gives me a sci-fi Star Wars-y kinda vibe. To hold is lighter than I was expecting. On the front of the Aero, there is a marker, which lets you know exactly how intense your suction is. Represented by in front of the Tenga print. Under it is the silver ring that has lines across it that run in sync with the marker and as you navigate through them you can feel the toy click into position. Though these are not as they seem, you'll have to keep reading though to find out!
They are quite stiff as I moved them around – there are 10 levels to chose from, each more intense than the last.
The Tenga Aero also has a built-in drying rack. When you remove the lid, you will see a black rod, this needs to be pulled up and twisted to stay in a firm position that supports the Aero after washing. This really is a prime example of why I love Tenga. Their products are always so innovative with cutting-edge smart technology that makes life overall easier. Just wash, hang, let it drip dry, and forget. No issues with dust and bits getting stuck to it.
Two Different Kinds of Stimulation
Select the Right Amount of Suction for You.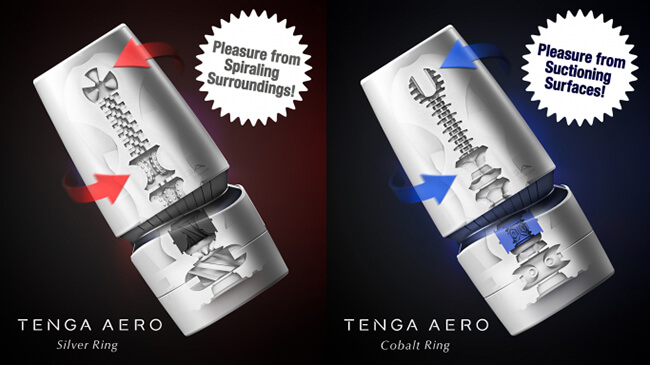 Two unique sensations: Pleasure from spiralling surroundings with the Silver Ring and pleasure from suctioning surfaces with the Cobalt Ring! Each has different material hardness and details, allowing you to personalise the suction for the perfect experience.
Video Tutorial
Want to make sure you're getting the most out of your stimulation masturbator TENGA AERO? Check out tutorial to find out how to enjoy the incredible features of the top powerful masturbator for men of 2021.
So how did my boyfriend get on with the Tenga Aero?
Ok so first of all the biggest thing is we thought the suction on the Aero went from left to right – left being lightest suction to right being full-on but in fact it is actually the other way round. This was actually hilarious to watch as my boyfriend struggled to fit his semi inside. "It just won't fit" was all I kept hearing, while he held himself and tried to push inside, while lashings of stringy real lotion coated his big cock and glistened up at me. Sweet god, I am making myself yearn with need writing this!
The suction grip the Tenga Aero has is nothing short of incredible – in fact in all our years of reviewing toys I have never seen my boyfriend to be able to stand up and swing his semi cock around with the toy to remain fully attached but that is actually possible with this toy!
Yes, the Tenga Aero's suction is THAT powerful!!
My boyfriend claims Tenga has missed out by not having the option to attach chain weights at the bottom of the toy for penis weight training lol!

Tenga Aero will surprise you!
As a result though, he does prefer it on the lighter modes because the suction is so intense it could get him off too quickly. He feels he really enjoys the sensations and on the lightest mode can feel each nodule caress him. He loves the addition of the new band and claims it really feels like popping himself inside me – the band really feels like a woman. The only downfall he can find is it can create a lot of air (which comes from where we do not know!) and can be ever so slightly noisy if you start to jack off fast. Not in a way that people can hear might I add. The shape works well, is easy to hold and his pinky just sits into the groove – two hands are needed to adjust the suction setting though!
In his own words – "Tenga have topped themselves again! It is pretty awesome to witness a company that has the ability to keep beating themselves. Simple but extremely effective and well thought out".
Specifications
Size (D × W × H mm): 78 × 78 × 172;
Insertion Length Approx. (mm): 150;
Insertion Width Approx. (mm): 19;
Weight (g): 420;
Other Specs: Reusable, Sample Lubricant Included;
Materials: ABS / PC / POM/ Silicone/ Elastomer.
Lotion: HOLE LOTION [REAL] (Red) Ingredients:
Water, Glycerin, Sodium Polyacrylate, Ethanol, Hydroxyethylcellulose, Phenoxyethanol, Methylparaben, EDTA-2Na, Polysorbate 80, Sorbitan Cocoate, Fragrance.
Frequently Asked Questions (FAQs)
Is the TENGA AERO reusable?
Yes! With proper washing and care, the AERO is reusable. Please note that product longevity may vary in accordance with methods and strength of use, lubricant choice, cleaning and storage methods, and overall maintenance. For best results, use TENGA HOLE LOTION and always follow care instructions.
Is the AERO electronic?
The AERO is not electronic and may be enjoyed manually.
What is different about each TENGA AERO?
Both the elastomers' and rings' details and hardness differ.
How should I wash the TENGA AERO?
Remove the Elastomer from the Outer Case and wash it.
After use, thoroughly wash out the lotion with cold or lukewarm water and then wipe off remaining moisture with a dry towel.
– Dry the Elastomer without turning it inside out.
– Avoid using hot water of 50°C/ 122°F or higher, as it may damage the elastomer (the soft transparent part).
– While body soap and other such products may be used, avoid using highly acidic/alkaline cleansers. Such cleansers may damage the elastomer.
How should I dry the TENGA AERO?
A drying stand can be made by pulling the Cap Stand all the way up and then turning it clockwise until it clicks into place. Place the Elastomer on the Stand and dry it thoroughly in a well-ventilated area.
[Warning!]
Please ensure the product is completely clean and dry before storing to help avoid mould and other build-up.
How should I store the TENGA AERO?
After thoroughly drying the Elastomer, insert the Stand into the Cap, turn it counterclockwise, and return it to the bottom of the Cap when it hits the stopper.
Place the Elastomer inside the Outer Case, replace the Cap, and store the Product in a cool and dark place, avoiding direct sunlight and high temperatures and humidity.
What should I use for lubrication with the TENGA AERO?
The TENGA AERO includes one sample of TENGA HOLE LOTION [REAL].
 
We recommend using TENGA HOLE LOTION for further uses. Please note that while the material of the interior (TPE) should be compatible with other water-based lubricants, we cannot be held responsible for any damage that may occur from third-party lubricants. Oils and silicone-based lubricants should not be used, as these can damage the material.
How should I lubricate the TENGA AERO?
Lubricate both the inside and around the insertion point to allow for smooth entry. Insufficient lubrication may make it difficult to insert, or cause discomfort during use.
What are the size and properties of the TENGA AERO?
Insertion Depth: Approx. 15cm.
Insertion Width: Approx. 1.9cm.
Reusable, sample pouch of lotion included.
What materials are used to make the TENGA AERO?
Materials: ABS / PC / POM/ Silicone/ Elastomer
Lotion: HOLE LOTION [REAL] (Red) Ingredients:
Water, Glycerin, Sodium Polyacrylate, Ethanol, Hydroxyethylcellulose, Phenoxyethanol, Methylparaben, EDTA-2Na, Polysorbate 80, Sorbitan Cocoate, Fragrance
How should I dispose of the TENGA AERO?
Waste separation and recycling will differ according to region, so please refer to your local guidelines for further details on how to dispose of items made with the materials listed above.
Are there fake or counterfeit TENGA items out there?
Currently there are a number of counterfeit TENGA items on the market. While they may look very similar to authentic TENGA products, the quality is far inferior and may even be dangerous to use.